Wedding favors are a special way to thank your guests for being there to share your big day. They are also an opportunity to send your friends and family home with an item that will remind them of the fun you all had together long after the fact.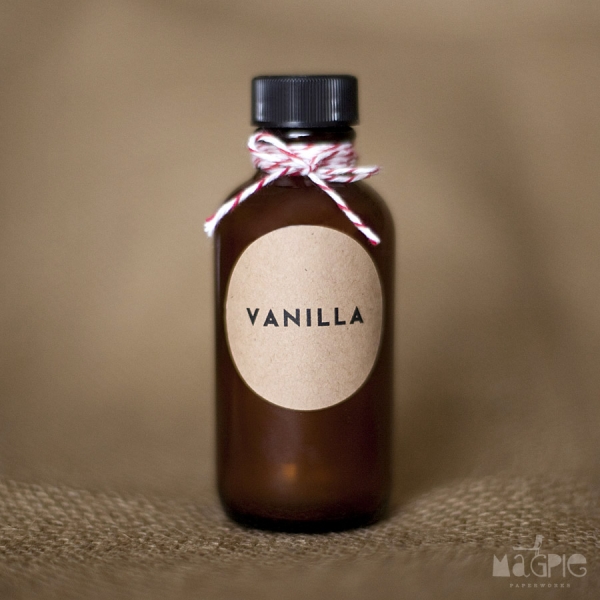 Photo Source: Ruffled
However, choosing the right favor for your wedding can be frustrating, as it's difficult to find something that won't break the bank when bought in large quantities and yet which still looks classy. For this reason, it's become increasingly popular for couples to make their own wedding favors, which has the added benefit of granting a very personal touch to these gifts for your guests. Below are ten of our favorite ideas for do-it-yourself wedding favor projects!
Homemade goodies. Wedding favors don't have to be complicated! Whip up some batches of your favorite cookies, brownies, truffles, or other goodies, and wrap them individually in the packaging of your choice. These kinds of favors are a hit with guests and give you the opportunity to share a favorite or family recipe. Just make sure that whatever you choose to make will keep well between creation and the wedding. You probably would like to avoid having to make all your favors at the last possible moment! In addition, be sure to label the goodies so that guests know what they are and include a list of ingredients. Remember, some people might have allergies.
Personalized CDs with your favorite songs. For a wedding favor that truly reflects you and your partner, consider burning music CDs with your favorite tunes or with songs from your wedding. This is a very budget-friendly project, as you can buy a lot of blank CDs for relatively little money. You can easily print out labels to customize the look of your disks and great templates like this one exist for making an attractive CD sleeve.
Mini potted succulents or herbs. These favors are not only adorable, but can double as place card holders, as well. Succulents come in lots of different varieties and are incredibly easy to care for, making them a great gift even for guests with brown thumbs. They make wonderful decorations for kitchens and living rooms, giving them a practical appeal. Or give your guests the gift of a continuous supply of fresh herbs, like thyme, rosemary, and mint for use in their culinary creations. The containers in which you choose to present these favors also allow for endless customization and expression! Instructions for this project are provided here by Weddings by Lilly.
Spring bulbs or seed packets. Give your guests the gift of a beautiful garden with wedding favors of spring bulbs or seed packets! Great for fall or spring weddings, these favors are both inexpensive and eco-friendly. When planted, the flowers which grow from these favors will remind your guests of your special day for years to come! When you package these favors, include instructions on how to plant and care for them and personalize the gift with your own gardening tips!
Tiny terrariums. Looking for something a little different? These miniature terrariums are a great and attractive way for guests to bring a little nature into their home or office. The materials are inexpensive (you can save even more money by simply using recycled glass containers) and the process can be entertaining for those brides and grooms who enjoy crafts. Some cool examples (and their instructions) include this vertical wall terrarium brought to you by Ruffled, this light bulb terrarium found on A Subtle Revelry, and this Christmas ornament terrarium from Green Wedding Shoes.
Ingredients in a bottle. These homemade kitchen kits are cheap, easy to make, and can be used as place card holders, too! All you need is a bunch of mason jars and the ingredients for a tasty meal or treat. Allrecipes.com has a great recipe for a soup-in-a-jar mix or, if you'd like something sweeter for your guests, Something Turquoise has this wonderful Mason jar cookie mix recipe. Just remember to include a list of ingredients and, of course, cooking/baking instructions!
A candy or trail mix buffet. Allow your guests to choose their own favors by providing them with a candy buffet! Simply choose an assortment of different kinds of candies (these can be inspired by your wedding theme or colors, of course) and display them in jars on a table along with boxes or bags so that guests can select their favorites to take away with them! You can find further tips and instructions here, from Project Wedding. Or, for a healthier take on this favor idea, The Art of Weddings offers tips on creating a trail mix buffet!
Glass fabric magnets. These awesome fridge magnets are a great and easy crafts project from the blog, Mr. and Mrs. Phillips! Customize them with fabric or paper in your wedding colors or just choose patterns that appeal to you. Make a small set of three or four for each guest and package them in boxes or bags.
Homemade infusions. If you're looking for an easy DIY favor that you can get done a long time in advance, infusions are a great option! And not only are they simple and inexpensive, but guests will get use out of them, as well, so you don't have to worry about your hard work going to waste. Click here for instructions from Ruffled on how to make your own vanilla extract as favors. For those who prefer a Mediterranean flair, click here for instructions on how to make rosemary-infused olive oil, brought to you by Martha Stewart Weddings. Or, for a wedding favor with a kick, check out this tutorial from About.com on how to infuse spirits with different flavors.
Birdseed hearts. For an adorable, inexpensive and eco-friendly favor, consider making these heart-shaped bird treats for guests to hang in their gardens. Hang them from trees at your wedding or package them individually! Intimate Weddings provides easy instructions for making them here.