Baltimore is full of history, and there are plenty of beautiful, historic venues in the city where you can host any kind of event. If you're dreaming of hosting a wedding, party, or corporate event at one of the city's historic spots, here are some of our favorites.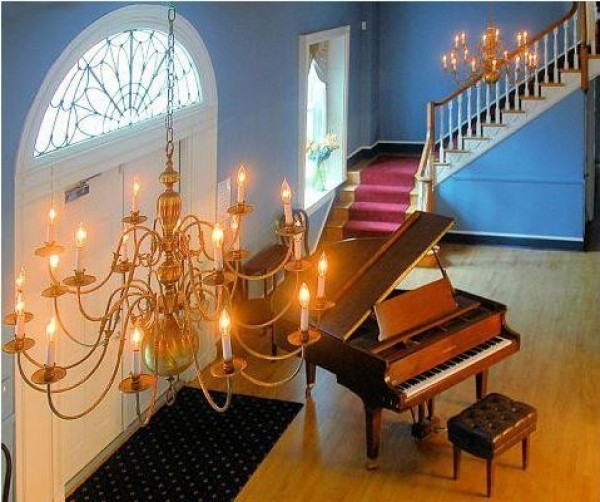 Photo Credit: Historic Oakland
The Evergreen Museum and Library: Described as "a magnificent 19th century Gilded Age estate" just minutes from the Inner Harbor in Baltimore, The Evergreen Museum and Library is part of Johns Hopkins University, and is a historic estate and library. Your next event can be held in a variety of the estate's unique spaces, including the carriage house and the garden.
The George Peabody Library: Like The Evergreen Museum, The George Peabody Library is also part of Johns Hopkins University, although this library is housed in the Peabody Institute of Music. Described as "a space of exquisite symmetry in the neo-Grec style.... so perfectly proportioned that, although the room is monumental, the feeling is intimate." The library is perfect for every event from weddings to retirement parties to conferences and fundraisers, which can be held in the previously described Stack Room or the Exhibition Gallery, where guests can see items on display from the library's collections.
Chase Court: Chase Court, located on St. Paul Street in Baltimore, was built in 1879 as the parish house to the nearby Christ Episcopal Church. Weddings have been celebrated in this building over 130 years! Your ceremony can be held in the historic ballroom, which has "gorgeous, huge leaded-glass windows, delightfully intricate historic woodwork, and soaring ceilings" or out in the garden.
Creative Alliance at The Patterson: Located on Eastern Avenue in Baltimore, Creative Alliance at The Patterson is a unique gallery space. You can hold your next event in the Marquee Lounge, a "beautifully designed, award-winning" space perfect for smaller events such as intimate dinner parties or screenings; the Amalie Rothschild Gallery, "ideal for smaller, more intimate gatherings and receptions," where work from contemporary regional artists is displayed year-round, and the Main Gallery, "an exceptional space" for larger events such as weddings and receptions.
Historic Savage Mill Manor: Built in 1844, this "charming manor house.... hints of another era." Historic Savage Mill Manor is located in Howard County and hosts events in a grand ballroom or a beautiful garden.
B & O Railroad Museum: The Baltimore & Ohio Railroad Museum, located on West Pratt Street in Baltimore, and offers "several one-of-a-kind venues" to host your next special event, from weddings to company picnics and holiday parties.
Historic London Town & Gardens: This public museum, located in Londontowne, Maryland, is "a majestic waterfront venue" near Annapolis. Your ceremony can be held in a variety of spaces at this charming waterfront venue full of history and unique opportunities for photographs.
The Globe Theater: This former working theater, in Berlin, Maryland, has been converted into a venue that combines an art gallery and a restaurant, hosting weddings, parties, and simple Sunday brunches. At this historic venue, you can exchange vows on a stage and celebrate afterward at the Coppertop Bar.
Kittamaqundi Community Church at Historic Oliver's Carriage House: This historic building was constructed in the 1830s as a stable and carriage house for an adjoining estate, but has been the home of Kittamaqundi Community Church since the 1970s. The building is full of historic rustic charm, including "original stone walls and exposed wooden beams.... tree-lined grounds, colorful gardens and landscaped brick patio."
Historic Oakland: Historic Oakland is a manor house in Columbia, where "you will step back into time to experience the serenity of an authentic country estate." with options for both indoor and outdoor events, Historic Oakland is a venue of splendor and serenity.