We all know that tying the knot can have a big impact on a couple's bank account, but increasingly brides and grooms are becoming more conscious about their wedding's impact on the environment, as well.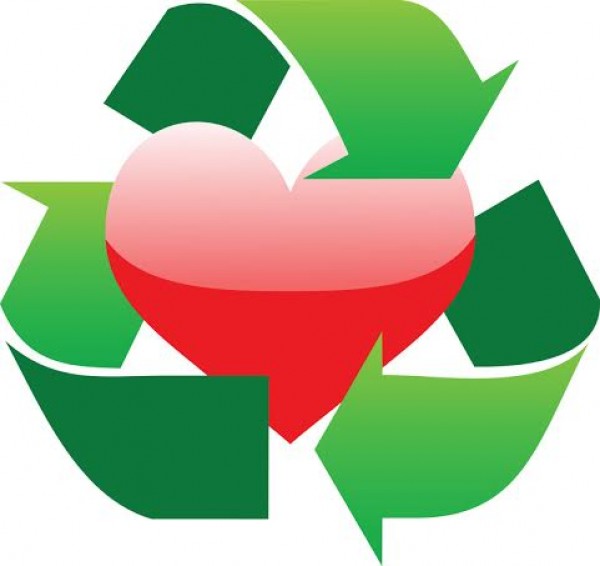 According to The Green Bride Guide by Kate Harrison, the average wedding produces 400 lbs. of garbage and 63 tons of CO2! This week we turned to local catering company, Zeffert & Gold, for some helpful tips on how to plan a sustainable Baltimore wedding that not only celebrates your new life together, but helps to preserve the environment for future generations!
Use local and sustainable food sources for menu items. Food is an important part of any wedding celebration and an excellent medium through which to practice sustainability! When planning your menu, ask your caterer to stick to dishes made with locally grown/raised organic ingredients. This will cut down on gas emissions from transportation and eliminates the environmental impact of chemicals used in non-organic farming, such as pesticides. Start planning early so that you can find out what will be in season at the time of the wedding. Maryland has delicious options for all seasons, so don't be afraid you will be limited by sticking to organic, locally-grown produce!
Use local and seasonal flowers. Flowers are an enduring wedding tradition and help to add beauty to both the ceremony and reception. The use of certain fertilizers in their production and the gas emissions resulting from their transportation, however, can add harmful elements to the environment. By purchasing from local, organic vendors and selecting flowers which are in season, you can reduce your carbon footprint. Another great, environmentally friendly option is to replant your flowers after the wedding to reduce waste and get a head start on that new garden you've been planning.
Re-use and re-purpose wedding decorations. Wedding decorations don't have to be a one-time deal. If you plan on throwing lots of parties in the future, save your décor and re-use it! Don't be afraid to borrow or rent decorations for your big day. After the wedding is over, consider using one of the many helpful websites which have been established to help newlyweds sell their wedding decorations to other couples. And just because a decoration was originally intended for your wedding doesn't mean it won't look fantastic in your home, as well. You will enjoy being surrounded by fun reminders of your wedding in your day-to-day life!
Have your caterer recycle, compost, and re-purpose event materials. Be sure to ask your Baltimore wedding caterer about their practices regarding recycling, composting, and re-purposing. These are efficient and easy ways to ensure that your wedding produces as little waste as possible, thus reducing its impact on the environment.
Use decorations and tableware created from natural, biodegradable materials. Having a green wedding means being aware of the kinds of materials wedding items are made from and choosing the most eco-friendly options. This holds true not only for decorations, but also for things like tableware. Instead of using china, which requires high temperatures, high energy costs and chemicals to create, we recommend plates and utensils of bamboo, palm leaf or other natural materials, which not only are made through more environmentally friendly processes, but are attractive and biodegradable.
Instead of wedding favors, consider donations to the bride and groom's favorite charity. Wedding favors are fun, yet many are not very eco-friendly. A good sustainable alternative to giving out wedding favors (one which is becoming more and more popular) is to make a donation to the bride and groom's favorite charity with the money which would otherwise be spent on favors. This is a meaningful and very personal way for you to give back to the world around you on your special day.
Replace place cards with a fun seating chart. An important part of being green is knowing how to modify practices that use many resources in favor of more efficient alternatives. An average wedding can use up a lot of paper products, with place cards being a prime example. Instead of using all that paper to create individual cards and sending your guests hunting for their places, try providing them with a large, easy-to-read seating chart. The process of table-finding will be less chaotic and there are lots of ways decorate the chart to fit your theme.
Send electronic invitations or invitations made from sustainable materials. Another option to minimize paper consumption is the newly-popular electronic invitation. There are many sites which offer these now and they are becoming highly customizable! If you still relish the idea of sending out physical invitations, consider having them crafted from sustainable materials, such as recycled paper, bamboo, or hemp. For extra environmental friendliness, use inks made from soy or flax.
Arrange with caterers to donate leftover food to a local food pantry. Even the best-planned reception is bound to have food left over. Instead of letting your tasty catered meal go to waste, arrange with your caterer to donate leftover food to a local food pantry to feed those in need. This will ensure that all of your delicious wedding food is eaten and you'll feel good giving back to the community!
Select a Maryland wedding venue which offers eco-friendly features. The saying "location, location, location" holds true for green events, too! When selecting a venue for your wedding, be sure to ask what sort of eco-friendly features are offered by each possible location. These days many venues are becoming very environmentally conscious and it shouldn't be hard to find one to your liking! Look for features like green roofing, which will reduce heating and cooling costs, geo-thermal heat pump systems, energy efficient lighting fixtures and window coverings, and low flow water use in restrooms.