Looking for a venue that's a little out of the ordinary? Baltimore and the surrounding area is full of beautiful and unique spaces that will really make your wedding stand out.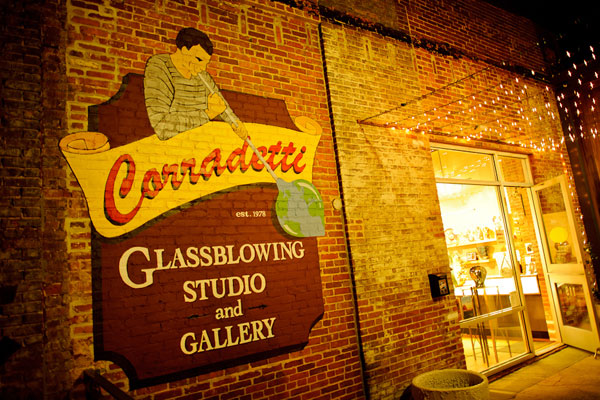 Photo Credit: Corradetti Glassblowing Studio & Gallery
If you're disenchanted with cookie-cutter venues, try taking a look at these unusual options:
1. American Visionary Art Museum
Photo Credit: Love Life Images
The American Visionary Art Museum is not only the national repository for artworks created by self-taught artists, it's also a work of art, itself! The building has won numerous international and national awards for its design and beauty and it's the perfect place to capture some truly one-of-a-kind wedding photos!
2. Corradetti Glassblowing Studio & Gallery
Photo Credit: Corradetti Glassblowing Studio & Gallery
This working glass studio covers 3,300 square feet and is a hot location for events of all kinds. Decorating the space is a snap, as rental includes the gallery level full of vibrant blown glass artwork all made on site. The studio even includes a stage to accommodate a ceremony or live band. With the glow of the glass furnace and the rustic hanging party lights, this venue is sure to leave an impression on your guests.
3. Samuel Riggs IV Alumni Center
Photo Credit: Samuel Riggs IV Alumni Center
Located at the University of Maryland, the Samuel Riggs IV Alumni Center was designed by world-renowned architect, Hugh Newell Jacobsen, and features a number of signature details, including a stained glass ocular and travertine marble floors. The Alumni Center's unique shape and design features, not to mention its lush garden and crystalline fountain, promise spectacular photo opportunities and an experience your guests will not soon forget.
Photo Credit: The Studio at Woodberry
Housed inside what was once a textile warehouse, this 1200 square foot studio has been renovated into a modern, chic event space with beautiful hardwood floors, floor to ceiling windows and double door entryways. Amazingly versatile and with a unique urban vibe, The Studio at Woodberry is perfect for couples looking for something different.
Photo Credit: Maryland Art Place
As a contemporary art gallery, Maryland Art Place or MAP, is a vibrant and engaging space for your event. With exposed brick entryways, three galleries with 14-foot high ceilings, and hardwood floors, MAP is a beautiful space featuring regularly changing exhibits to provide the perfect backdrop for your special day. If you're an art lover, MAP is a must for your list of venues to check out.