Looking for a way to spice up your wedding reception or cocktail hour and really get your guests involved? Lawn games are fast becoming a popular alternative to the dance floor, offering wedding attendees a great chance to mingle, get to know one another, and have fun! Here are some of our favorites!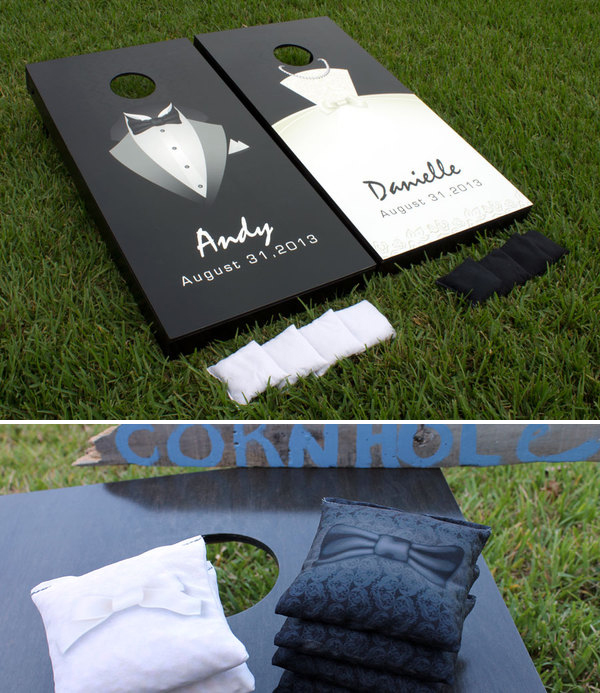 Photo Credit: Custom Wedding Games
Cornhole or Bean Bag Toss. This is probably one of the most popular wedding lawn games and there are tons of places to find customized game sets complete with monograms, silhouettes of the couple, or other wedding-themed décor (Check out Custom Wedding Games for some great examples). Cornhole is a wonderful option for cases where space is limited and it's such an easy game to pick up on that guests can learn the rules very quickly.


Ring Toss. Another great game involving tossing items at other items is Ring Toss, which is great for couples who enjoy DIY projects. With a few recycled bottles painted in your wedding colors and some re-purposed embroidery hoops, you can create an awesome customized game set for your guests to enjoy.


Horseshoes. Horseshoes is another classic yard game that's a lot of fun for all ages! It's easy to learn, inexpensive, and very addicting. Not to mention that horseshoes are symbols of good luck, always great to have at a wedding!
Giant Board Games. Giant board games are awesome! Whether it's Jenga, checkers, or even Bananagrams, these oversized games have the appeal of novelty added to the entertainment value of their smaller versions and are often easy to make. For Jenga, just cut up some two by fours; for checkers you can paint a checkerboard on a drop cloth and use two colors of Frisbee for game pieces. For Bananagrams all you need are large tiles with letters painted on! Get creative!


Croquet. Croquet is the quintessential yard game and a summer favorite. Provide a set of mallets, balls, and wickets and your guests will be entertained for hours. One thing to keep in mind, however, is that this game does take up a fair amount of space and needs its own designated and well-marked area. You don't want guests accidentally stumbling onto the field and tripping over the wickets!


Bocce Ball. This classic Italian lawn game also needs a bit of room to play, but requires very little equipment and allows for up to eight players. With just a sufficiently large playing area and a set of balls, your guests will be in business. And it can be played while holding a drink in one hand!


Badminton. This game is always fun, even if you don't know the rules, and a great way to get your guests to move around!
Don't forget to add signage to direct your guests to the wonderful games you've provided and to help explain the rules of more complex games like croquet or bocce ball. Above all, have fun!