While it can be easy to overlook in the excitement of planning your actual wedding day, the rehearsal dinner is often a very special moment for couples and their families. This is frequently the first occasion members of both families will come together to eat at the same table and become acquainted with one another. While still a celebration, the atmosphere is generally more intimate and relaxed than the actual reception and it's a good idea to choose a space that reflects this.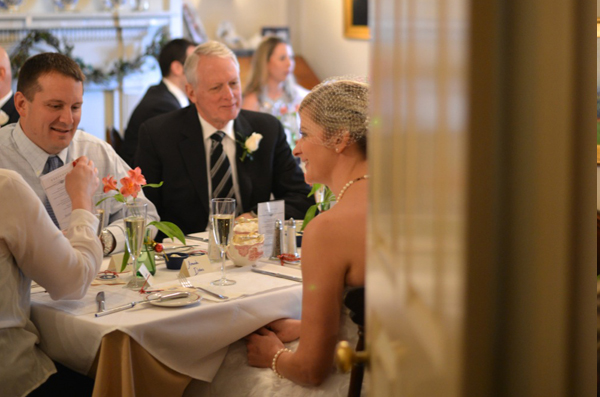 Photo Credit: Reynolds Tavern/ Jessica Schmitt Photography
Here are seven wonderful rehearsal dinner venues in the Baltimore area, sure to make your family and friends feel right at home:
1. Lord Baltimore Hotel Calvert Ballroom
Photo Credit: Lord Baltimore Hotel Calvert Ballroom
As a National Historic Hotel, the Lord Baltimore is one of Baltimore's most elegant venues. Capable of accommodating both large and small celebrations, Lord Baltimore Hotel features the cuisine of The Classic Catering People, who not only provide delicious meals, but also maintain a commitment to environmentally friendly practices.
2. Manor Tavern
Photo Credit: Manor Tavern
Located on a 10,000 acre country estate in northern Baltimore County, Manor Tavern offers elegant banquet facilities with a variety of room sizes to accommodate from 20 to 240 guests.With customizable menu options and hundreds of variations to choose from, the Manor Tavern sources its ingredients locally and seasonally.
Photo Credit: Jetty Dock Bar
Featuring a relaxed atmosphere and a beachside location, the Jetty Dock Bar offers a menu brimming with delicious crab and barbecue. Capable of accommodating both large and small parties, this venue is great for those looking to hold a more casual event.
Photo Credit: Pope's Tavern
Pope's Tavern is a European Bistro which offers a casually elegant dining experience for up to 40 guests. Located at the Oxford Inn in Oxford, MD, the Tavern also features a charming library lounge where guests can enjoy cocktails, starters, and desserts. There is also a teak bar with seating for 12.
Photo Credit: Reynolds Tavern
Located in Annapolis, Reynolds Tavern is a beautiful example of Georgian architecture, dating back to 1747. Offering flexible menus, intimate dining rooms, and a unique atmosphere, the Tavern is a wonderful choice for celebrating with family and friends.
Photo Credit: The Robert Morris Inn
Once the home of a prominent 18th century merchant, the Robert Morris Inn is beautifully preserved and restored with timber beams, panelled walls, and open fireplaces. The Inn boasts a menu which draws on a blend of English and American cuisine, featuring the Chesapeake's natural larder. The Robert Morris Inn features two private dining rooms for events with from 6-70 guests.
Photo Credit: Ruth's Chris Steak House
Located in the quaint, quiet neighborhood of Eastport in Annapolis, Maryland, Ruth's Chris Steak House offers guests a warm, comfortable atmosphere that is casual while being elegant. They have a number of private dining rooms for different sized events, the largest being capable of accommodating up to 160 guests.