One of the most important parts of the event planning process is deciding on a venue. Our Event Design Consultants are great advisers to our clients and frequently help them find the best Baltimore wedding venues for their special day.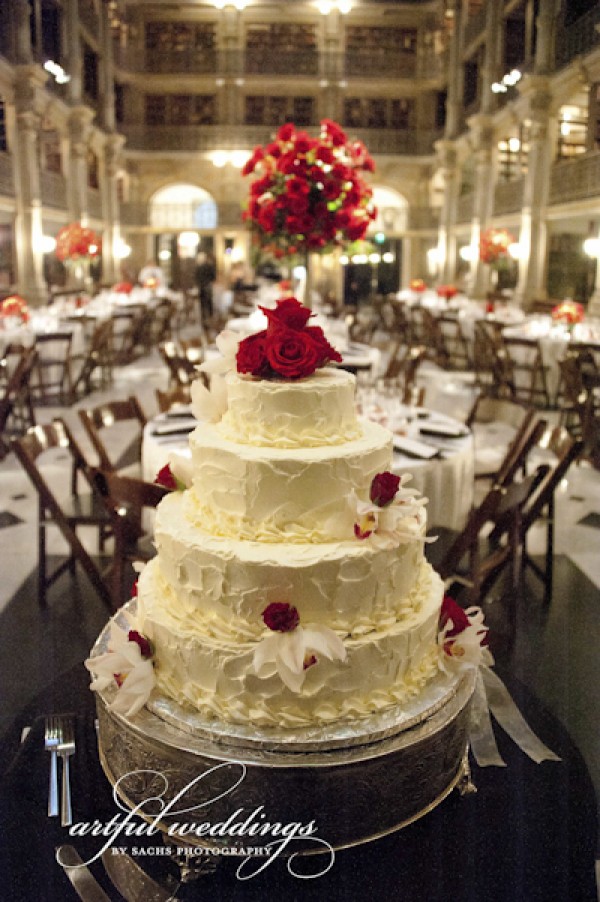 Each month we will feature one of our favoriteBaltimore Wedding Venues. In March, we are showcasing the George Peabody Library!
17 East Mt. Vernon Place, Baltimore, Maryland 21202
The George Peabody Library has been traditionally known as a research library, but it also serves as a beautiful stage for events – wedding, corporate, and social. The space provides a flexible and elegant atmosphere that is truly unique to the Baltimore area. It is rare to find a venue that has such a dramatic space as the soaring stack room but still maintains an intimate feeling.
Last fall Chef's Expressions catered the Wedding Celebration of Kathryn Knapp and Manju at the Peabody giving them a night to remember. Here is what the bride had to say about her experience at the truly fantastic venue.
I was a bridesmaid in my friend's wedding in 2007 when I first became familiar with the venue. After looking at pictures of the library, I knew right away that if I ever got married it would be at the George Peabody Library.
Fast forward 2 years and Manju and I were coincidentally living down the street from the library. After he proposed I told him we had to visit.

As we walked in it took our breath away and we knew we had to get married there.

Several guests from my wedding said they felt like they walked into a fairy tale!

As self-proclaimed foodies, we knew that our caterer would be one of the most important decisions we would make. My husband is from India so we wanted to incorporate both cultures into our wedding food. We had to find a very special caterer that could meet our needs and Chef's Expressions went above and beyond our expectations! They really worked with us to make a menu that would reflect both cultures.

Several wedding guests said it was the best food ever eaten at a wedding!

The food and presentation were phenomenal adding to the beauty of the George Peabody Library. Our wedding day was truly magical and Chef's Expressions (Especially Bonny Opper!) played a vital role to make it that way. I cannot imagine my wedding without them!
Kathryn and Manju's Menu
BUTLER PASSED HORS D'OEUVRES
Crab Cornets with a White Truffle Sabayon
Vegetable (Peas & Potatoes) Samosas
Shiitake Chopsticks
Grilled Lamb Loin Medallion Crostini
Mini Chicken Tandoori
Thai Vegetable Spring Rolls
SEATED SERVED DINNER
First Course Trilogy
Puffed Pastry with Fuji Apple Compote
Butternut Squash Soup
Beet Vase Autumn Salad
Artisan American Bread Basket
Second Course
Roulade of Turbot
hint of Scallop Mousse and filled with Fresh Jumbo Crab
served on a Bed of Poached Spinach with Fennel Seeds
with a Lemon Basil Beurre Blanc
Entrée Course
Braised Boneless Short Rib Provencal
Yukon Gold Whipped Potatoes with Bourbon Sweet Potatoes
Roasted Jumbo Asparagus
Kathryn and Manju's Wedding Cake
Chef's Expressions Wedding Cake with alternating tiers:
Yellow Cake with Lemon Curd and Fresh Strawberries
Chocolate Cake with Chocolate Mousse
We would like to thank Katy and Manju for choosing Chef's Expressions and the George Peabody Library for their special day. They were such a joy to work with and now that they are back in the area hopefully the opportunity will rise to work together again. Also, a special thanks to Sachs Photography, Ann's Garden, and Absolute Entertainment for your wonderful services.
Check out Uncovering the Naked Wedding Cake Trend in Baltimore!
Still searching for the perfect Baltimore wedding or event venue? Click here! Searching for event professionals? Click here!