Are you trying to avoid using a floral centerpiece for your wedding or looking for a unique idea to decorate your reception? Centerpieces can be a fantastic choice for couples looking for ways to personalize as many unique parts of their wedding as possible. While floral centerpieces are the traditional choice, they are far from the only option out there.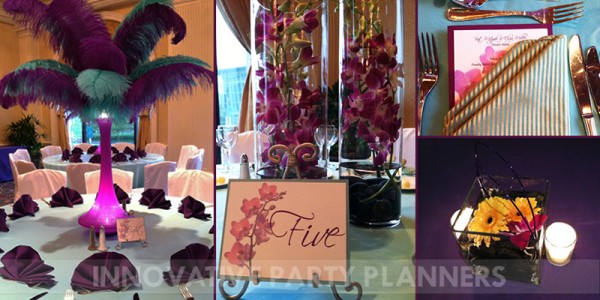 Photo Credit: Innovative Party Planners
If you're thinking about using centerpieces but don't want to use flowers, candles would be a great option. They're very versatile, always pretty, and you could use battery-operated candles so you don't have to worry about wax dripping all over the table or if someone in your family has breathing difficulties from the candle smoking. As a centerpiece, candles would look great by themselves, on stands, in domes, in mason jars, or even in a jar with pebbles or slices of citrus fruit.
Handmade wreaths are another wonderful option for a unique centerpiece. You can use burlap, silk flowers, strings of lights, seashells, ribbons, tulle, or pinecones, to name just a few. If you want to use a wreath but are stuck for options that don't include flowers, your Baltimore vendor might have some good ideas.
Seasonally-appropriate décor is always a great choice. Consider witch hats or pumpkins if you're having an autumn wedding, snowflakes, strings of lights, holiday ornaments, or elf hats for a holiday or winter wedding, fruit for a spring wedding, and shells and starfish for a summer wedding.
Even though you're looking for ways to avoid floral centerpieces, you can always consider other choices from nature or that are inspired by. Branches, silk or paper flowers, pinecones, and pieces of tree stumps can all make great centerpieces.
Certain types of food can make for colorful centerpieces. Lollipops, dry noodles, marshmallows, fruit, and vegetables, can all make for yummy (well, except maybe the dry noodles) and unique centerpieces.
Centerpieces involving glass are always a classic option. Candles, seashells and starfish, pinecones, flowers, butterfly displays, branches, holiday ornaments, and strings of lights would all look amazing positioned on a stand beneath a dome as an option for a centerpiece. Consider decorating wooden numbers to include as table numbers!
Globes can be decorated on the inside or the outside with sparkles, pearls, brooches, silk flowers, candles, strings of lights, and any of the options discussed previously. Of course, you could also make a globe of the world a centerpiece, too!