Check out PartySpace.com's Best Baltimore Venues of 2018, selected by PartySpace's editors!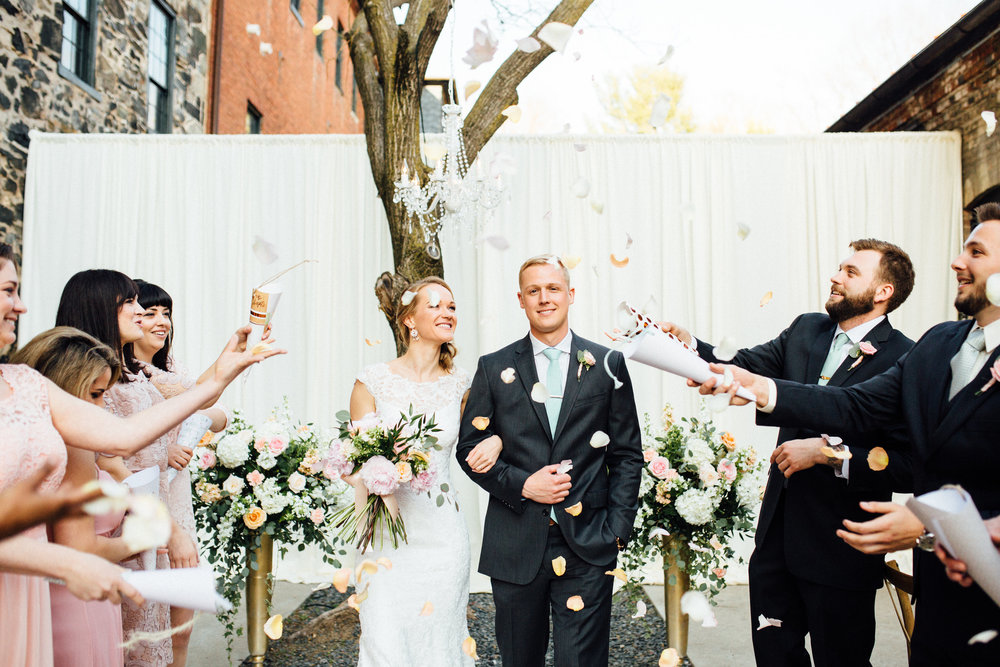 Photo Credit Nicki Sebastian
Built as a 19th-century mill in the Mt. Washington neighborhood, the Mt. Washington Mill-Dye House is a unique, rustic venue. With room for 200 guests, Mill-Dye House has historic interior and exterior spaces for celebration.
Photo Credit Clay Blackmore
The Winslow is the perfect blend of modern and historical, and with over 5,000 square feet of event space, you can get as creative as you want with your party! The main Winslow Room is a two-story mezzanine, with concrete floors and exposed brick and steel features. While the Train Shed Room, offers floor-to-ceiling windows, providing stellar views of the nearby M&T Bank stadium.
Photo Credit Aaron Rosa Photography
The Assembly Room is a great industrial-chic setting for weddings and events! 24,000 square feet of exposed brick, high ceilings, steel beams, and skylights make this lively downtown Baltimore venue a unique space.
Photo Credit Urban Rowe Photography
You wouldn't believe that the Accelerator Space venue was converted from a 90-year-old auto dealership. The main room is an industrial chic design, with a restored hardwood dance floor and exposed ceilings. There is also a hidden rooftop patio with soft bistro lighting, perfect for a cocktail hour.
Photo Credit Mckenzie Elizabeth Photography
Get married under the shade of sweeping oak and maple trees at The Elm. This renovated Civil War-era carriage house is located on some gorgeous property and can accommodate up to 145 guests.
"We can't think of another place that better captures our personalities and our spirit than The Elm," said PartySpace users Brian and Sue. "Thank you dearly for providing such a wonderful and fun place for us to celebrate our wedding."
Photo Credit Points South Latin
This colorful Fells Point establishment can host your next event! Point South Latin has some of the best cuisine in the Baltimore area. Plan your special occasion here, you won't regret it!
"Spectacular food. Top-notch service. Kind and welcoming owners. Terrific experience here," said PartySpace user Katie.
Photo Credit Inn at the Colonnade Baltimore
Have a first-class event at the Inn at the Colonnade Baltimore! There are six unique event rooms to host your celebration, including an outdoor wedding space.
"The ceremony was outside reception inside. everything was amazing," said PartySpace user Kimberly. "The food and wine was great. Everything was very professional. I enjoyed my wedding and I am glad I chose this venue!"
Photo Credit Chase Court
Chase Court is an ideal venue for couples who are looking for something different! The property has dramatic gardens, as well as an 1879 Gothic ballroom with historic woodwork and stunning glass windows. This venue is well-known for throwing impressive Harry Potter-themed weddings, as the Chase Court Great Hall bears a remarkable resemblance to Hogwarts!
Photo Credit Annabelle Dando Photography
Host the event of a lifetime at the George Peabody Library. This multi-tiered library is breathtaking, with six stories of cast-iron columns overlooking a grand marble pavilion. Cocktail hour is held in the library's Exhibit Gallery, filled with rare items from the library's collection.
Photo Credit Jackson Photography
Formerly the residence of John Garrett, the president of B&O Railroad, this luxurious estate is great for holding events. The manicured, tree-lined backdrop is enchanting, and with a variety of outdoor and indoor space for dinner, drinks, and dancing, there isn't a more premier venue than the Evergreen Museum.
Photo Credit HÁBITAT
This 3,000 square foot industrial-chic space is terrific for any type of event! With dark floors, Moroccan tiled walls, white painted brick, and modern lighting fixtures, this unique Baltimore venue has all the desirable amenities for your big day.
Photo Credit Corradetti Glassblowing
Corradetti Glassblowing Studio and Gallery
The Corradetti Glassblowing Studio and Gallery is a contemporary space that is perfect for hosting events and celebrations. This 3,400 square-foot glassblowing studio has character: ceilings over 20 feet high, exposed brick walls, and a modern pool fashioned after a Roman bath. This rental also includes the gallery level, filled with the vibrant blown glass art created on the premises.
"An amazing beautiful enchanting rustic all around amazing venue!! Could not have asked for a better place to celebrate our wedding," said PartySpace user Jasmine.