With spring just around the corner, we're highlighting some of our favorite Baltimore wedding venues that are perfect for spring events- featuring amazing outside spaces to take advantage of beautiful weather, but equally perfect indoor spaces just in case Mother Nature decides to make an unwanted appearance at your party.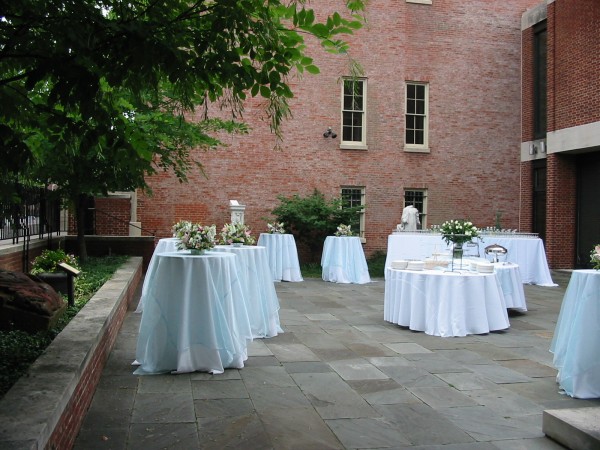 Photo Credit: Maryland Historical Society
Thousand Acre Farm: Thousand Acre Farm is a beautiful Delaware waterfront wedding venue that offers incredible indoor and outdoor spaces, including "Every window features water views and the high, arching ceilings evoke an open feel for both small and large parties. Fireplaces provide a rustic atmosphere and include an outdoor fireplace on the patio and a large fireplace on the main floor... In addition, there is a new 16×38 deck overlooking the waterfront at the farm."
Maryland Yacht Club: This Pasadena venue is another location with beautiful waterfront views and equally gorgeous indoor spaces. The Maryland Yacht Club features "8-acres of spacious waterfront views from all angles. You will feel like you have entered a private island. With plenty of parking, water views, a spacious clubhouse and beautiful locations for all pictures, you and your guests will have a wonderful, memorable time."
Castle at Maryvale: The Castle at Maryvale is located in Lutherville, and is a gorgeous, Gothic-style venue perfect for indoor and outdoor occasions. Modeled after England's Warwick Castle, this venue features an "impressive exterior is a mere hint of the grandeur that lies within. The Castle's Great Hall boasts European oak-paneled walls with Tudor-style carvings and diamond-paneled, beveled glass doors opening to the magnificent terrace." Outside, "the terrace and panoramic views of emerald green lawns and lush gardens stretch before you offering a picture-perfect setting for an outdoor reception."
Historic Oakland: This venue is located in Columbia and is described as "truly one of the most beautiful and historic buildings in Howard County, Maryland... As you walk through its grand entrance, you will step back into time to experience the serenity of an authentic country estate. With both interior and exterior entertaining options, Historic Oakland offers a wide array of choices for your event."
Baltimore Museum of Art: Located near Johns Hopkins University and described as "a beautiful venue to host everything from intimate dinner parties to large-scale receptions. Weddings, rehearsal dinners, bar/bat mitzvahs, corporate events, holiday parties and more!" This unique venue features beautiful spaces within the museum and outside on immaculate grounds, the Baltimore Museum of Art is an amazing Baltimore wedding venue with plenty of indoor and outdoor spaces to host any event.
Accelerator Space: Accelerator Space is in Baltimore near Belvedere Square Market, a former auto dealership "offers a unique industrial chic design coupled with modern amenities." The venue features an indoor space with "a giant restored hardwood floor and exposed ceilings..." and a hidden rooftop patio, making this space perfect for events with multiple options, no matter the weather.
Inn at Huntingfield Creek: This Rock Hall venue offers three beautiful spaces on one property, with indoor and outdoor options. The first space at the Inn at Huntingfield Creek is the Crystal Barn, which is "an eclectic anchor... with charming carriage doors and wide ceiling to floor sliding panels on the backside... Three Swarovski crystal chandeliers and painted wall mural provide the right degree of elegance for both simple and country-chic weddings." The second space is the namesake Huntingfield Creek, has a dock that is perfect for small ceremonies. The final ceremony space at this venue is the Ceremony Pergola Garden, where "an expansive lawn and perennial garden flows to a pergola and thick, grassy path to a fountained wood-side pond."
Brittland Estates: Brittland Estates is a "secluded mansion with gardens, pool, and 530 riverside acres, is old world luxury personified" in Chestertown. This venue has beautiful outdoor settings and spectacular indoor settings, ranging from "The spacious lawns and surrounding fieldscapes are made for grand receptions and hunting retreats. The furnished interior has many rooms and offers a grand hallway and staircase for weddings and corporate events."
1840's Plaza: This Inner Harbor venue is a complex that consists of multiple venues in one: a reception site, banquet facility, museum, hotel, and conference hall. Venues range from outdoor landscaped gardens to a ballroom featuring "8-foot tall windows that offer sweeping panoramic views of the Baltimore Inner Harbor and surrounding area..." and "elegant chandeliers, custom velvet draperies, a mahogany and stained glass English Pub bar and hand-painted murals of historic Baltimore..." to a space with "fun and exciting Latin-inspired decor" that was originally a tango club, and the entire complex is is a historic city landmark, making 1840's Plaza perfect for all sorts of events with a variety of options in regards to space.
Maryland Historical Society: The Maryland Historical Society is a beautifully unique venue in the Mount Vernon neighborhood of Baltimore, which offers a variety of spaces for special events, including "classically elegant to strikingly modern to a touch of nature in an urban setting," all while being surrounded by hundreds of years of state history.