Looking for something more than the traditional floral bouquet for your Baltimore wedding? Whether you're allergic, having a green wedding, or simply want a bouquet that will last forever, these fun flower-free alternatives are sure to do the trick!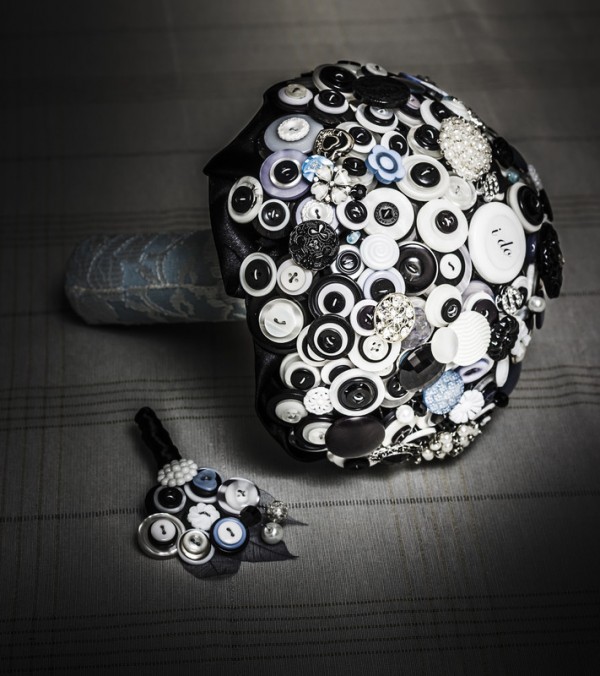 Brooches or Buttons: If you have a love of antique jewelry or are looking for something with a bit of sparkle to it, why not opt for a bouquet fashioned from brooches, like the stunning ones made by Blue Petyl Bouquets? For those with the time and creativity, Project Wedding offers DIY instructions for making your own! Or, if you'd prefer something quirkier, how about a button bouquet, like the ones created by Etsy vendor, RBKCreations. You can also make your own using instructions found here.
Wire: If you're looking for something with more of a modern look, consider a sculpted wire bouquet. While this might not make the best DIY project unless you have experience in metalworking, you can purchase wire bouquets from various online vendors such as Refinerii.
Paper: When it comes to paper bouquets, there are so many possibilities to choose from! For a touch of whimsy, you could opt for a single giant crepe paper flower, like this amazing rose from Green Wedding Shoes. For something more personal, you could have a bouquet of flowers fashioned from sheet music from a favorite song or from the pages of a favorite book, like the ones made by Etsy's Diddlebug. There are also numerous DIY instructions available online for making these kinds of flowers, if you're the crafty type! For some beautiful tissue paper flower varieties, check out this tutorial and this one from Martha Stewart's website.
Shells: If you have a mind to incorporate Baltimore's seaside location into your wedding theme, why not carry shells instead of flowers? A shell bouquet can add the perfect touch to that nautical theme and they can look spectacular. You can find a vendor online or make your own using this tutorial from Savvy Deets Bridal.
Fabric, Felt or Crochet: If you like that handcrafted look, then a bouquet made with crocheted or felted flowers might be for you. For instructions on how to crochet your own bouquet, you can check out Maize Hutton's blog. Various online vendors offer bouquets made with felt flowers (RBKCreations among them), or you can use this great tutorial by Something Turquoise to make your own. Fabric is another versatile material, capable of being elegant or whimsical, depending on the colors and style you choose. Imbue You I Do offers a list of great tutorials for making fabric bouquets in a range of different styles.
Candy: Have a bit of a sweet tooth? Why not embrace it with a cotton candy or lollipop bouquet? Perfect for a themed wedding, candy bouquets are fun, tasty, and definitely memorable! Just don't eat them before the ceremony!