Each month, we feature one of our favorite Baltimore wedding venues. This month, we are showcasing the American Visionary Art Museum!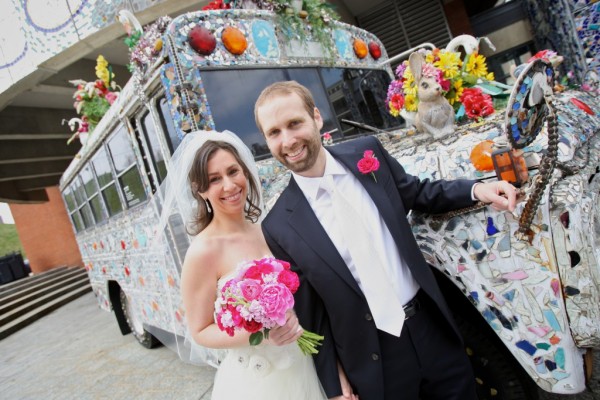 One of the most important parts of the event planning process is deciding on a venue. Our Event Design Consultants are great advisers to our clients and frequently help them find the best places for their special day.
Nestled at the base of historic Federal Hill in the south side of Baltimore's beautiful Inner Harbor, the American Visionary Art Museum is a unique and exciting venue for special events. Not only is the museum the national repository for the artworks created by self-taught artists, the building's architecture is an artistic creation unto itself – winning many international and national awards for its design and beauty. AVAM is capable of hosting events from small intimate dinner parties to large-scale receptions.
The Wedding Celebration of
Deborah Srabstein and Ari Houser
On April 1st, 2012 Chef's Expressions catered the Wedding Celebration of Deborah Srabstein and Ari Houserat the American Visionary Art Museum, giving them a unique evening to remember forever.
The courtship between Srabstein and Houser began as a friendship and developed as they shared their interests in hiking, live music, food, culture and their canine companions. Srabstein described her reservations and attraction as something unlike she had ever felt before. "I had a feeling that there was something right about it. There was a certain gravitas to it that I didn't have before," she says. After Srabstein returned from a trip to Thailand, Laos and Singapore the romance between the two quickly grew as they met each other's families and discussed their future. Houser proposed in January and the two were wed on April 1st this year.
(For more of their story check out their article in the Washington Post!)
The ceremony was held overlooking the Baltimore Harbor in Federal Hill Park, where the couple exchanged vows beneath a traditional chuppah surrounded by their family, friends, and two dogs. The reception was held in the American Visionary Art Museum where Chef's Expressions prepared a completely vegan menu, attentive to the bride's needs and the couple's desires for their guests. The bride collaborated with our Event Design Consultant, Melanie Brzozowski, for the décor of the event creating a beautiful atmosphere with floating paper lanterns, centerpieces of floating candles and delicate pink flowers, to balance with the dramatic and lively room at the museum. It was a delight for Chef's Expressions to work with Deborah and Ari to create a truly magical celebration and we wish them all the best.
Mike Buscher Photography
Deborah and Ari's Menu
Mike Buscher Photography
BUTLER PASSED HORS D'OEUVRES
Shiitake Chopsticks
Vegetable Dim Sum
Avocado and Mango Salsa
Mini Beet Carpaccio Waffle Cones
Gazpacho Shooters
Samosas
SEATED SERVED DINNER
First Course Duo
Beet Vase
Filled with Mache, Lolla Rossa and Baby Spinach
White Balsamic Vinaigrette
Roasted Plum Tomato Soup
Infused with Fennel Seeds
Topped with Fried Basil
Artisan American Bread Basket
Second Course
Mike Buscher Photography
Wild Mushroom Risotto
Infused with White Truffle Oil
Topped with a Tempura Enoki Mushroom
Entrée Course
Mike Buscher Photography
Whipped Southern Yam and Puree of Spring Spinach Timbale
Infused with a Hint of Organic Maple Syrup, Ras El Hanout, Toasted Fennel Seeds,
Valencia Orange Zest and Grape Seed Oil with a Crown of Asparagus Spears
Topped with a Kataifi Nest
Presented on an Artichoke Bottom
Moat of Baby Brussel Sprouts
With Roasted Red Peppers
Topped with a Pistachio Dust
Vegan Wedding Cake
Mike Buscher Photography
Dessert Trilogy
Thai Purple Rice Pudding
Meyer Lemon Square
Long Stem Strawberry
Injected with Grand Mariner
Freshly Brewed Coffees and Imported Teas
Mike Buscher Photography
We would like to thank Deborah and Ari for choosing Chef's Expressions and the American Visionary Art Museum for their special day. They were such a joy to work with and we wish them the very best. Also, a special thanks to Mike Buscher Photography, Amy Epstein, from Crimson & Clover, Drymill Road andAJ Productions for their wonderful services.