The first wedding planning decision to make is choosing your ceremony and reception venue. So, let's take a look at how to figure it all out!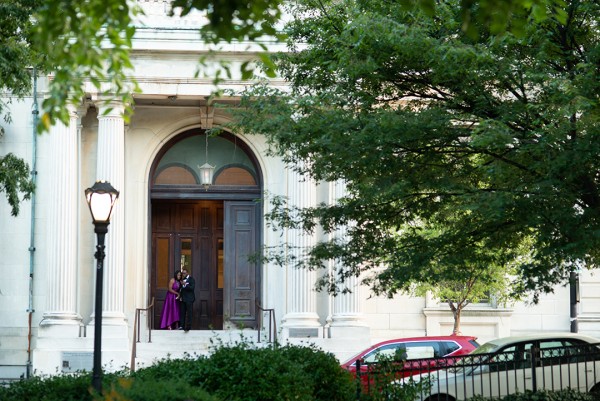 Photo Credit: Chase Court
The first wedding planning decision to make is choosing your ceremony and reception venue. Almost all of your planning depends on your having a wedding date, time, and place. You'll have all of those once you've booked your venue!
There are lots of criteria to use in venue selection. The most basic is geographical: where in the world, in the large and small sense, do you want to get married? So, let's take a look at how to figure all of that out!
In what city or town is the venue located? What is the neighborhood like? Is it a hospitable and interesting area? Are there venues nearby for your rehearsal dinner and an after-party? How accessible is the venue from highways and main roads?
Speaking of accessibility, it's important to know if you'll have guests who are mobility-impaired, and if the venue can accommodate them.
If you have guests who will be staying overnight, how much lodging is there within a reasonable distance from the venue? What is it like, and what kind of rates might your guests expect to pay? If your party might need ten or fifteen or more hotel rooms, is it possible to block-book rooms at a group rate? Are there post-wedding brunch places nearby that can accommodate your group?
If you're planning a church wedding followed by a reception at another venue, book the church first. Churches are often quite specific about the time of day and day of the week when they'll have weddings. Churches sometimes have a membership and other requirements that need to be met several months before your wedding. You'll want to know about all of that as soon as possible. Reception venues usually have much more date and time flexibility than churches. Have an available date and time with the church and an available date and time with the reception venue before you commit to either one. The idea is to have the timing of the ceremony experience flow right into that of the reception experience. Church ceremonies typically run 40 to 60 minutes long. Add that to the travel time between the ceremony and reception venue, and you'll get your reception start time. While you're making photographs after your ceremony, your guests are making a beeline for cocktails and hors d'oeurves!
There's more to consider, of course. Once you have a general location in mind, you can look at other criteria, we'll do that more in future posts!
By the way, I encourage you to set up a spreadsheet to keep the information you gather together and in order. Later on, you can sort the whole thing, venue by venue, as you narrow down the finalists.
David Egan is the proprietor and steward of Chase Court, an 1879 Gothic former Episcopal parish house that's now a unique Baltimore wedding and event venue. Chase Court has hosted hundreds of weddings since 2002, including nearly 70 same-sex weddings. Visit chasecourt.com, and follow chasecourtweddingvenue on Instagram and Facebook.
Searching for the perfect Baltimore wedding or event venue? Click here!
Searching for the right vendors to make your event one-of-a-kind? Click here!