As we look to 2018, we are starting the new year by celebrating our most popular venues of 2017! This week we're featuring our most popular Baltimore venues.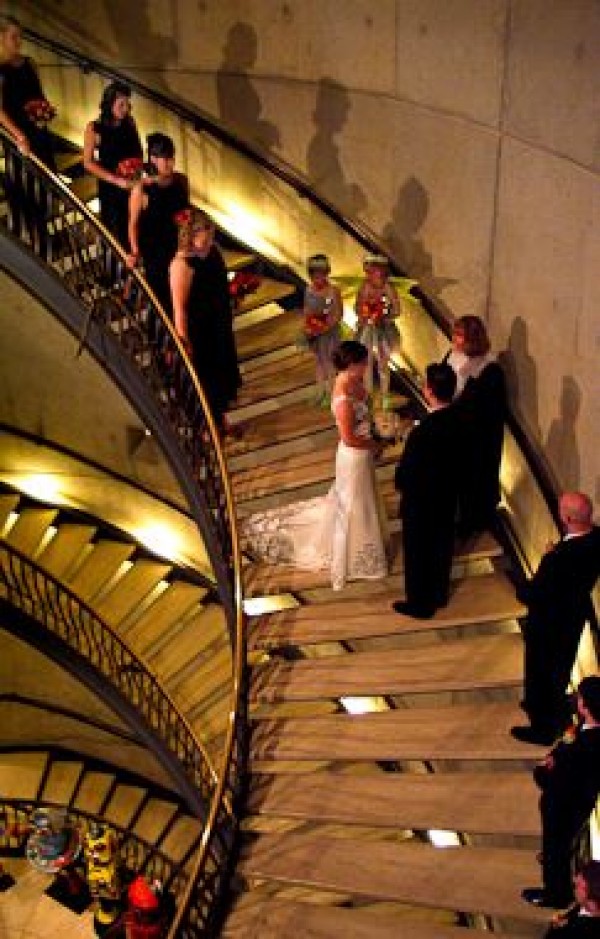 Photo Credit: American Visionary Art Museum
Mt. Washington Mill-Dye House: The Mt. Washington Mill-Dye House is a historic venue in Baltimore's Mt. Washington neighborhood that has flexible spaces, can accommodate up to 200 guests, is described as "industrial rustic chic" and "is a 19th-century mill that... offers a unique, picturesque setting for private events."
The George Peabody Library: Part of Johns Hopkins University, this historic Baltimore wedding and event venue "is a setting of great beauty, unique in Baltimore and worthy of your most significant celebrations." The George Peabody Library's "incomparable" Exhibition Gallery is a "soaring stack room" that features "six tiers of stately cast-iron columns, decorative railings, and classical embellishments touched with gold-leaf in this room that rises 61 feet from its black-and-white marble floor to the massive skylight that caps the central interior. A space of exquisite symmetry in the neo-Grec style, the stack room lends an atmosphere of history and accomplishment to every event."
Evergreen Museum & Library: Like The George Peabody Library, the Evergreen Museum & Library is part of Johns Hopkins University. This historic Baltimore wedding and event venue features multiple indoor and outdoor spaces, including the Carriage House, which dates from the 1870s and "offers an abundance of delightful and unique indoor and outdoor spaces... The large carriage room, spacious wood-paneled stalls, and paved garden terrace (tented during warmer months) provide a range of attractive possibilities for events large and small." Another space offered at this venue is the Upper Gardens, which includes "manicured gardens, marble statuary, and historic fountain, with the Main House as a dramatic backdrop."
Turf Valley: This hotel and garden wedding and event venue is in Ellicott City, where it "offers several different ballrooms and an array of scenic locations and wedding packages to choose from." At Turf Valley, you can "say your vows in our gorgeous pillar pergola surrounded by 1,000 acres of picture-perfect garden scenery. Celebrate with family and friends in one of our seven elegant indoor venues that thrill with unique features like sparkling crystal chandeliers and sweeping golf course views."
Radisson Hotel Cross Keys: Located near Cylburn Arboretum, this Baltimore hotel is also a wedding and event venue. Radisson Hotel at Cross Keys is only ten minutes from the Inner Harbor, but is "located on 72 landscaped acres in the heart of Baltimore City... rolling green hills and trees that reach to the sky await you." At this venue, visitors can "indulge in an oasis of comfort for you and your guests with amenities such as an outdoor seasonal pool, court-side lounge, room service, complimentary high-speed wireless Internet access, tennis courts, complimentary parking, and more!"
The Assembly Room: The Assembly Room is opening this month for weddings and special events. With flexible event space, this brand new industrial chic Baltimore venue "allows you to assemble several spaces to meet all of your event needs," featuring "exposed brick, high ceilings, steel beams and skylights."
Accelerator Space: Accelerator Space is an industrial chic Baltimore venue that is located inside a "re-purposed 90-year-old auto dealership that offers a unique industrial chic design coupled with modern amenities" near Belvedere Square Market. The venue's indoor space "features a giant restored hardwood floor and exposed ceilings…"
Corradetti Glassblowing Studio & Gallery: This unique Baltimore wedding and event venue is part of historic Clipper Mill, and "the hot spot for parties and receptions... a fabulous unique wedding venue in Baltimore that's sure to leave a lasting impression on your guests." Corradetti Glassblowing Studio and Gallery features "ceilings over 20 feet high, exposed brick walls, bamboo hardwood flooring, and large windows overlooking a modern pool fashioned after a Roman bath, the space offers contemporary design infused with old world charm."
American Visionary Art Museum: The American Visionary Art Museum is "nestled at the base of historic Federal Hill on the south side of Baltimore's beautiful Inner Harbor…" the venue "is the museum the national repository for the artworks created by self-taught artists, the building's architecture is an artistic creation unto itself - winning many international and national awards for its design and beauty."
Inn at the Colonnade: The Inn at the Colonnade Baltimore is a "boutique style, first-class" hotel and wedding and event venue. It is located near Johns Hopkins University and features "classic luxury and taste with 6 unique event rooms to choose from including our outdoor wedding space. From intimate gatherings to grand celebrations, stolen moments become memories of a lifetime."
Still searching for the perfect venue? Click here! Searching for amazing vendors? Click here!