Are you planning a summer wedding but aren't sure where to start when it comes to color schemes? Summer is a time for cheery colors and pretty palettes; here are some of our favorites to make your event gorgeous.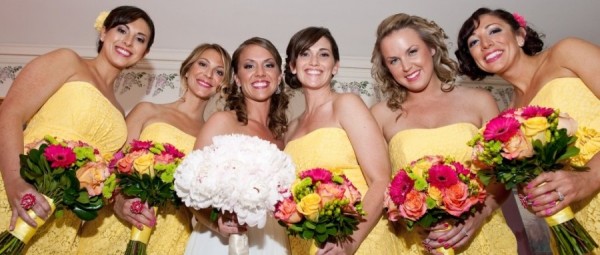 Photo Credit: John Zito Photography
If you really want to incorporate the bright colors of summer into your wedding, consider using yellow as one of your colors. Not only is it bright and cheery all by itself, but it goes well with all kinds of other popular wedding colors, including pink, green, and blue. Yellow can also add a pop of color to a more classic scheme, such as black and white.
Pastel colors, such as light blue, lavender, and mint green, work well for summer weddings if you're looking for a more calm, relaxed atmosphere on your big day.
Of course, just because it's summer doesn't mean you have to shy away from your dream of using more traditional colors for your wedding. If you're dreaming of using colors such as black, white, champagne, ivory, or rose gold, you still can! Some colors are classic no matter what season it is. For some colors, it is simply a matter of picking the right shade for the season, theme, and location of your wedding- for instance, pale pink might feel more suited to a spring wedding, while a brighter pink might be a better option for a summertime affair.
Are you still looking for the perfect venue for your next celebration? Click here! Do you have the perfect venue, and now you're looking for vendors to make your celebration amazing? Click here!