Preparing for your wedding day can be a blur of make-up and selfies and dresses, but even on the best day of your life, someone's going to forget their contacts or have the battery in their phone die. No one wants to hit these little snags, but it's better to be prepared before they happen. Here's a list of things to bring along.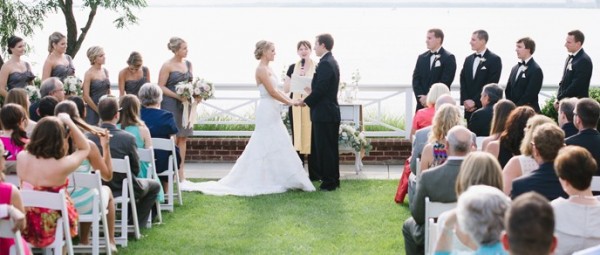 Photo Credit: Ceremony Officiants
Make sure the bride and everyone else looks their best by bringing hair spray, lotion, baby powder, deodorant, tweezers, extra contacts, contact solution, cases, and an eyeglasses repair kit. While the bride might not wear glasses or contacts, it's likely someone in the bridal party does, and it never hurts to be prepared. Like how contact users sometimes get stuck with only one contact at the bottom of the box, the lenses of glasses tend to fall out at the worst possible time, and it's no fun trying to do anything when you can only see out of one eye. Plus, only little kids cute in pictures when their frames are askew. Trust us, it's definitely better to have these things on hand, just in case. Additionally, your favorite brand of face wipes, moist towelettes, extra make-up, and a little travel mirror should be included. If the wedding and/or the reception is going to be outside, include sunscreen and bug spray as well.
A lot of money was spent on the bride's dress, the bridesmaids' dresses, and the tuxes for the groom and groomsmen, but unfortunately, that doesn't prevent accidents from happening. Hems can fall, buttons pop off, and drinks can spill. Have a mini sewing kit, hem tape, clear nail polish (for runs in stockings), safety pins, bandages for blisters, and a laundry pen on hand for these possible issues.
It's also not a bad idea to watch out for the general health of the bridal party. Someone's going to get a headache from the loud music at the reception, or have an upset stomach from indulging in too many appetizers. Have a pain reliever, antacids, feminine hygiene products, a bottle of water or two, and mouthwash or chewing gum on hand.
Finally, the tech-savvy members of the bridal party will thank you for this last time. Stick a power cord and a few extra chargers in the kit so everyone can have their phones and cameras all charged up in case the bride needs to call the DJ at the last minute while she's sitting in the make-up chair or the bridesmaids take too many selfies.
On the hunt for amazing venues for your next celebration? Click here! Searching for amazing vendors? Click here!