Chef's Expressions was recently asked by Partyspace Baltimore to help prospective clients properly prepare for their first meeting with a caterer and how to make the wisest decision. Exceptional caterers always appreciate well informed clients. Chef's Expressions is proud to have helped many clients relax and be guests at their own event while providing them with exceptional cuisine and service.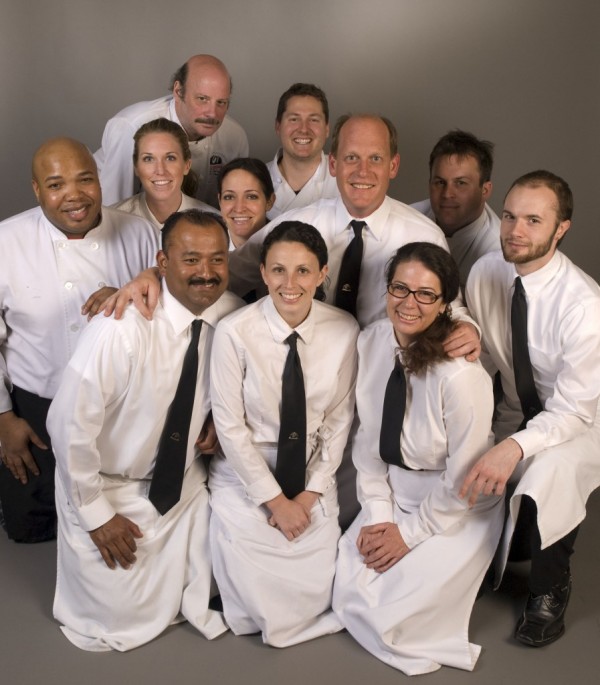 Many people tell us how confusing it can be to hire a caterer. Internet sites may offer tips, but we find that additional information is helpful when planning. Here are seven questions to keep in mind when interviewing catering companies.
Seven Questions to Ask a Baltimore Wedding Caterer
1. How many other weddings or events is your caterer involved with on your event date?
Unlike many caterers, we limit our calendar to ensure that each event receives the full attention of our staff. We don't believe that a smaller event should suffer when a date or weekend is crowded with other events. Therefore, we do our best to only schedule three to four events on the same day depending on the size of the event and needs of each client.
2. Who from your caterer's team and culinary staff will be on hand to manage your event?
It's Chef's Expressions policy to have a strong team at each event. It is the hands on approach from our Event Design Consultants, Event Specialists, Supervisors, and Culinary team who oversee the event preparation and execution and allow for a flawless event for you and your guests.
3. What is the service staff to guest ratio and bartender to guest ratio?
Chef's Expressions assigns staff based on the size and complexity of each event. This is typically determined after a decision has been reached on the venue and flow of the event. Typically, we assign one server per every two tables, and one bartender and chef per every fifty guests. This allows all guests to receive service within a comfortable time frame. Additionally, this ratio ensures a tidier event and helps keep setup and clean up costs to a minimum.
4. Is the food prepared on-site, or is it cooked elsewhere and brought to the venue to be reheated and served?
Chef's Expressions preparations are made exclusively from scratch and cooked to order, à la minute style, to ensure an unparalleled experience for each of your guests. Food only peaks once and we want it to be as flavorful as possible at the time it is served to your guests. If your venue does not have a kitchen, we bring all the appropriate equipment to make the food preparation and service seamless.
5. Does your caterer utilize strictly seasonal and farm fresh menu items, or do they use frozen and pre-prepared products?
Chef's Expressions uses the freshest, highest quality and sustainable food. We take every opportunity to utilize locally grown produce and proteins and never use any frozen or canned products. We source organic herbs and edible flowers to accent your plates and all of our breads, pastries, and cakes are made from scratch by our Pastry Chef, David Brooks. This ensures that your preparations are the best and most flavorful to create a memorable culinary experience for you and your guests.
6. Does the caterer employ their own staff or do they outsource from an agency?
Chef's Expressions carefully recruits, hires and trains our own staff to ensure friendly, graceful and discreet service. We believe that service is essential to the success of your event and is just as important as the food. We would not trust your happiness to a temporary staff from an agency.
7. Above and beyond menu and planning logistics, how will your caterer provide a unique experience for your family and your guests?
Chef's Expressions custom designs each of our events and our Event Design Consultants work intimately with you to make certain that your special day is flawlessly memorable. Our talented culinary staffcombined with our organized operational team ensures a safe, healthy and memorable experience. Ourclients consistently tell us that our comprehensive approach to their planning exceeds their highest expectations. View more client testimonials on the Wedding Wire.
Helpful Hint: Be certain that your caterer is fully licensed and insured.
Chef's Expressions is fully licensed and insured for maximum liability required to serve food and alcohol in the off-premise setting. The enjoyment, comfort and safety of you and your guests is paramount.
Please call our office for any help with planning your next event! We can assist with venue selection, décor and linen ideas, timelines and more. Visit our website to learn more about Chef's Expressions athttp://chefsexpressions.com/ or contact us at 410-561-CHEF (2433).
A Special thanks to Jennifer McMenamin Photography.
Still searching for the perfect Baltimore wedding or event venue? Click here! Searching for vendors to make your celebration perfect? Click here!