Looking for a fun, offbeat wedding venue your guests will love? Recently couples are turning more and more to museums and art galleries as the perfect place to tie the knot!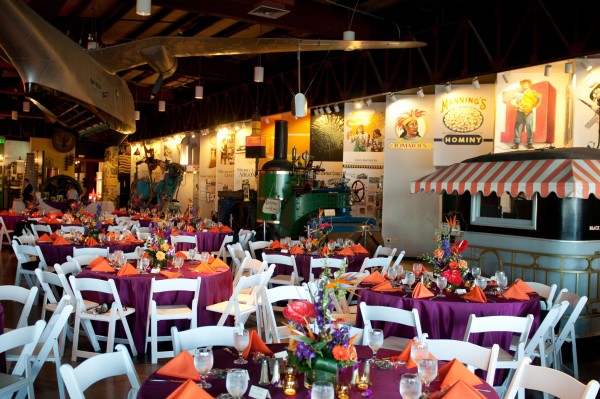 To better understand this trend, we turned to the folks at the Baltimore Museum of Industry for a look at what makes museum weddings so magical!
---
A museum is a unique space with a definite 'wow' factor—the artifacts, exhibits, and galleries create an interesting and appealing setting for guests to explore and enjoy and there is something thrilling about having a museum to yourself after-hours to share with just your family and friends for a special celebration. Couples who choose the Baltimore Museum of Industry as a venue for their wedding are looking for a location that their guests will talk about for years, recalling how interesting and engaging the event was. In a museum space a wedding or reception comes to life in a way that is colorful, historic, and fun, just like Baltimore, itself! It's difficult to capture that same kind of feel in an anonymous beige ballroom. In the case of the Baltimore Museum of Industry, the harbor is also a huge draw—Located on the Inner Harbor, the museum offers stunning waterfront views and has both indoor and outdoor spaces available for events.
Another factor which makes museum venues wonderful choices for engaged couples is that the space is already decorated for you! With all of the exhibits and artifacts, there's no need to add much more than table centerpieces and candles in order to create a beautiful effect. After all, it's hard to compete with a plane hanging from the ceiling and the harbor shining right outside the windows! Not only will your guests be surrounded by fabulous and engaging décor, but you won't have to worry about putting it all into place, yourself, or taking it down after the event. And of course, the museum pieces can make for wonderful and unique photos: nothing is sweeter than a wedding photo with the Domino sugar sign lit up behind a newly married couple!
Finally, with a little ingenuity, museum exhibits can be wonderful inspiration for table decorations and wedding favors. At the Baltimore Museum of Industry, we've had some brilliant centerpieces that tied in local companies like Domino, Natty Boh and Esskay, and gift bags for guests have included Berger cookies--all companies that have a place at the museum. These are great personal touches that locals and visitors alike can appreciate!
Check out The Many Benefits of Museum and Art Gallery Wedding Venues!
Still searching for the perfect Baltimore wedding and event venue? Click here! Searching for event professionals? Click here!