Traditionally, rain on your Baltimore wedding day is a good omen. However, if you are not sold on that idea and shutter at the thought of precipitation dampering your wedding, here are some benefits to uplift you: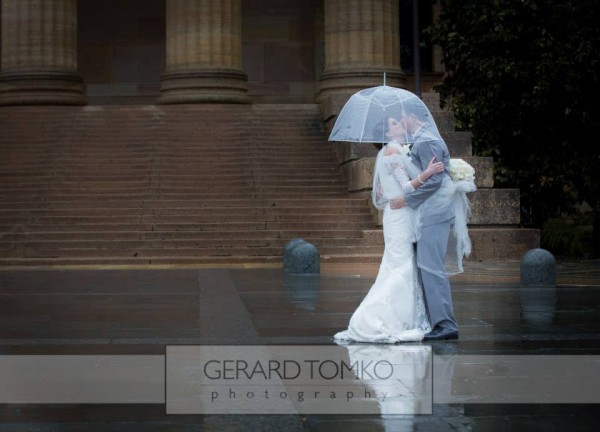 Photo credit: Gerard Tomko Photography
Photography: Pictures in the rain are beautiful. Umbrellas add a sense of romance and elegance despite being a necessary photo prop. The dichotomy of a fancy wedding dress against polka dot rubber rain boots brings character (and a splash of color) to wedding photos.
Puddles make great action shots and reflective pools for some fun Baltimore wedding photography. Ominous clouds can make stunning natural backdrops.
Rain cools off a sultry summer day and provides soft natural light and less shadows for your pictures.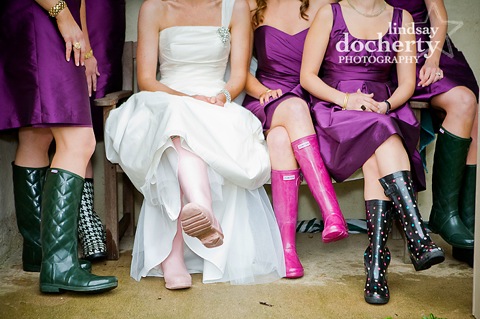 Photo credit: Lindsay Docherty Photography
Make sure to devise a Plan B in case of inclement weather. So just as you purchase a parasol for a sunny summer day, have a contingency plan by ordering matching umbrellas for you and the wedding party (if you are the matchy matchy type). More importantly, discuss shelter with your venue coordinator if you are hosting an outdoor wedding. Tents and alternative dry facilities should be addressed.
Rain will set your wedding apart in the memory of you and your guests, especially in thunder and lightning. Finally, at the very least, water symbolizes new beginnings just as the two of you embark on your new life together.