So you just said "yes", and he got off his knee, and now the work begins months, or even years of planning for your "once in a lifetime wedding day". Your friends and relatives have unending advice on what to do and where to go for a unique Baltimore area wedding, but that special day is one to be remembered forever. It shouldn't be left up to them, and for that matter, unless you are a multi-tasking machine, it shouldn't be your burden either, that special day.

Memories of a botched day, with a forgotten father daughter dance, a disc jockey introducing your parents as if they were his, the best man's toast interrupted by the standing bar guests, your venue is 2 tables short with missing place settings to boot, are not worthy of a wedded union's first day.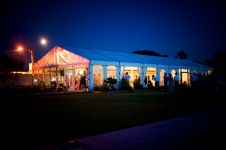 You deserve a day that moves by with you "in the moment", enjoying each unique pleasure your day has waiting for you. Silver Swan Bayside is the venue where you can rest assured that EVERYTHING will work out. Wedding planners at Silver Swan Bayside are trained, certified, and dedicated to deliver that "in the moment" feeling you'll always treasure. From pre-event planning sessions, tastings, to the special day itself, ALL of the pesky details are handled well ahead of time. The business relationships we have, are reliable, proven, service providers, ones we have worked well with together many, many times, and of course, those.
Baltimore natives have come to expect our planning and execution, at one of the most exciting wedding venues in the Annapolis area. Eastern Shore engaged couples love the easy location and parking, as well as the pristine view of the mighty Chesapeake Bay, and of course the peace of mind on our special day.
Check out The Upside to a Rainy Baltimore Wedding Day!
Searching for the perfect Baltimore wedding and event venue? Click here! Searching for event professionals? Click here!