The tasting can be one of the most fun and enjoyable parts of the wedding planning process. Not only do you get to sit down and try delicious food, but the experience often makes the impending wedding feel more real and gets you excited for the big day.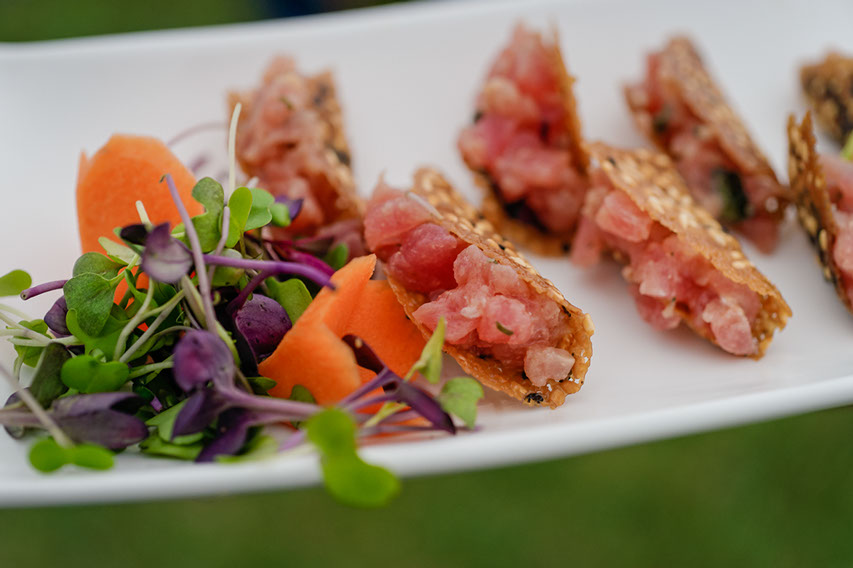 All photos courtesy of Linwood's Catering.
Recently, we sat down with Taliya Adelstein, the Director of Catering at the fantastic Linwood's Catering to find out more about what a couple can expect at their own tasting. Here's what she told us!
---
When I meet with our clients for a tasting, we are already "in the middle of our relationship" and have previously gotten to know one another. When a client first contacts us to express interest in our services, we send them our mouthwatering comprehensive menu with its wide variety of fabulous selections from savory starts to sweet finishes. The next step in the process is to meet with the clients either at dinner or lunch here at Linwood's Restaurant. This offers the client the opportunity to see, taste and ask as many questions as possible. They also have the ability to experience our food and our service. They leave our first meeting full, and not just because the food is extraordinary, but full of details and knowledge of what is involved in their once in a lifetime day from the catering aspect.
When a couple confirms that Linwood's will cater their wedding, we then move forward with planning details and the actual tasting is scheduled closer to the date of the wedding itself. I ask the client to select a large medley of passed hors d'oeuvres, display foods (if they wish to offer that), several first course options, and several entree options. In addition, we ask them to choose two flavors of wedding cake and, if they wish, additional fun desserts.
At the tasting, I give each guest their own tasting sheet on which to put comments, stars, or numerals to reflect what they like about that item and where it rates in comparison to all the other items they will try. They will be able to see how the food will be presented as well as the actual size of the presentation. They are welcome to "cut and paste" in creating their own special plate as well. I like to offer a little "game" after the hors d'oeuvres are offered. I ask each guest to give me their top three choices without taking too much time to think about it and it's always interesting to see who picks what. After everyone has the opportunity to express what they like best, we come up with something for everyone. It works very nicely.
The one question I always ask my clients is what foods their family, friends and guests enjoy and are accustomed to. The reason is that the bride and groom are welcome to have whatever they wish and their guests can have a different meal. This enables everyone to enjoy themselves to the fullest. If the bride or groom are vegetarians, it does not mean everyone has to have a vegetarian dish. They can have the meat, chicken, or fish dish. If the majority of guests are "meat and potato" people but the bride and groom are "foodies", again the meal should not be something the guests are not familiar with. The idea is that the food should be beautiful to look at and even more delicious when they eat it. I always love to look at the plates coming back to the kitchen after a meal and see that they are wiped clean. That tells me we have done our job and we have done it right! The guests enjoyed what they were given.
At the tasting, we discuss more than just the food; we talk about the energy of the event, itself. What are the ages of the majority of the guests? Do they want to "get the party started" or do they want to stay in their seats for a long time? Do they want the meal to take longer or do they want it to flow smoothly and effortlessly? Do they want the meal Family Style or for their guests to have a choice? These questions help decide whether a seated dinner or buffet is more appropriate. Will there be a band or a DJ? A band tends to be more expensive, so often couples will want to get their guests on the dance floor sooner rather than later, so they can enjoy the entertainment to the fullest. Will the wedding cake be a BIG part of the event, or does the couple want to have fun with desserts? What about a late evening snack passed to guests towards the end of the event? This last can be both savory and sweet, such as thin crust cocktail pizzas and mini ice cream sundaes in shot glasses.
I also always like to look at the reaction of my guests at the tasting. Very often the parents see things differently than the bride and groom and envision a different format. Listening to all sides and coming up with a happy medium is the answer, and I'm happy to say we excel at coming up with a menu and timeline that works well for everyone.
I believe that the most important thing for my clients is that they have a sense of what is most important to them. The majority of clients have a budget that they want to work with. The catering portion is usually "the biggest piece of the pie" since it encompasses the majority of the event with food, staff, china, glass, silver, beverages and linens. Given this, I want my clients to get the biggest "bang for their buck," and so if they tell me that food and service are on the top of their list then they have made the right choice in having Linwood's cater their magical day.
Click here to learn more about Linwood's Catering.
.