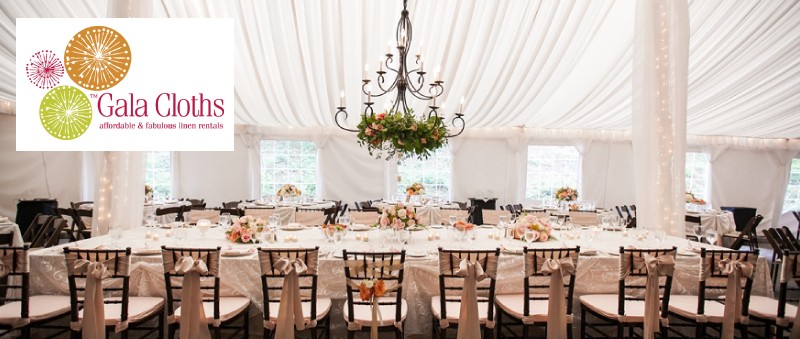 Closed: Gala Cloths - Maryland Showroom
This venue has closed, this page is provided for historical reference only.
Maryland
Gala Cloths - Maryland Showroom
Gala Cloths
Affordable & Fabulous Linen Rentals

Table linen and chair cover rentals for extraordinary occasions and celebrations...

...the best-dressed parties "are seen" in Gala Cloths!


Inspired by fashion, borrowed from the classics, or trendy and hip, linen rentals from Gala Cloths have dressed the tables for events at the very best party sites since 1991.

Set the stage for your special day.Transform your event space with tablecloths, chair covers and sashes, table runners, napkins, overlays and special accents. Wherever your party, wedding reception or event - hotel, country club, historic site or at home - renting special table linens and chair covers makes sense. Renting linens from Gala Cloths allows you unlimited choices and options, affordable for any budget. From the classics to the latest trends, we can show you every imaginable fabric, including exquisite embroidered sheers, taffetas, bengalines, organzas, damasks, prints and solids, and accessories and trimmings to add detail: tassels, rosettes, ribbons, roping & cording, bows, sashes, swagging techniques.

Stroll through our online Gallery of Linens and Events at www.galacloths.com. (You know you want to look!) Contact Gala Cloths Designer & Linen Consultant Teri Mullican for the personal attention you deserve. Teri can arrange to meet you -- or your event planner or florist -- at your party site or in our Showroom in Reisterstown, Maryland.

If you don't see your heart's desire, just ask! We can custom fabricate whatever you need.

Free swatches
Pick-up and delivery service available
Set-up service available
We stock difficult-to-find larger sizes

And, we ship everywhere!

Maryland Showroom
12360 Owings Mills Boulevard
Reisterstown, MD 21136

Showroom Hours
10-5 Monday-Wednesday
10-7 Thursday
10-5 Friday
10-2 First & Third Saturdays of the Month
After hours - By appointment

Teri Mullican, Designer & Linen Rental Consultant
410-790-8171
Teri@galacloths.com
Reviews
Dear Teri, I wanted to write and thank you for your attention to detail for our order. The Blue Check Tablecloths from Gala Cloths were crisp and beautiful! We had a wonderful reception, and the tablecloths really set the mood! Thank you!
Teri, what a blast you were to work with! You were ready with options and open to my ideas! Thanks for helping to develop my theme with mini sombreros!
Ladies of Gala, Just wanted to send you a note to say THANK YOU!!! I must personally say that the LABELS on the linen for the area and designated use WERE FANTASTIC. For an event this large ? this made life so much easier. I cannot thank you enough, Petra
Contact Person
Teri Mullican
Address
12360 Owings Mills Boulevard Reisterstown, MD 21136