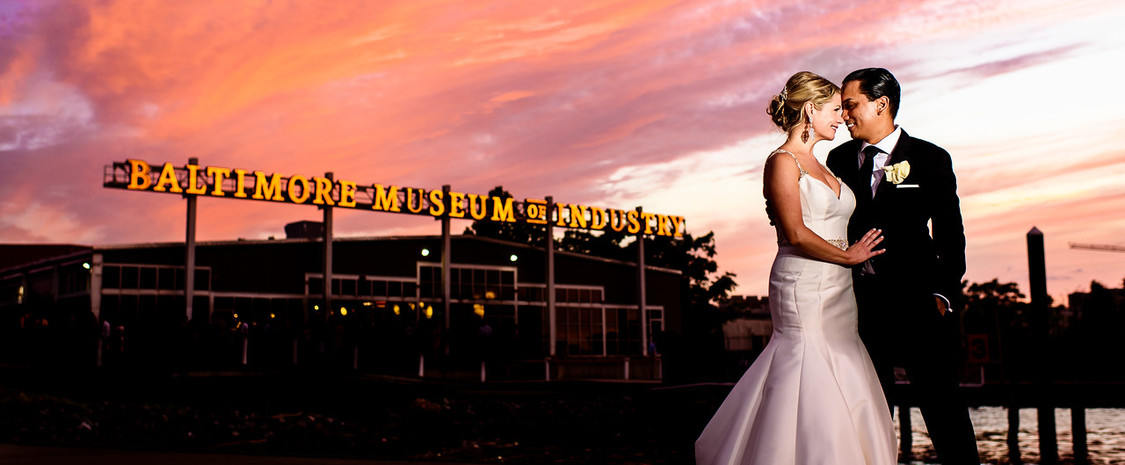 Baltimore Museum of Industry
Baltimore, Maryland
Baltimore Museum of Industry
Imagine your guests overlooking the beautiful harbor with the city skyline as your backdrop. The Baltimore Museum of Industry is a unique Baltimore wedding venue in a historic oyster cannery.
Event Spaces & Capacity
The Baltimore Museum of Industry offers several event spaces:
Decker Gallery: hosts 300 guests for a seated event; 250 seated with space for a dance floor; and 500 or more for cocktail reception service. A floor-to-ceiling wall of windows and a beautiful brick terrace offer a spectacular view of the Inner Harbor.
Outdoor Pavilion hold 300 seated guests or many more for cocktail reception service. However, additional space is available on the adjoining waterfront point. Clear sides can be lowered during inclement weather.

In addition, The Baltimore Museum of Industry is pleased to offer free on-site parking, and a variety of approved caterers to choose from. Ask about our wedding packages or schedule a site tour.
Contact Baltimore Museum of Industry today for more information about one of the most unique wedding venues in Baltimore! 
Reviews
The BMI was an amazing place to have a wedding - it's got great charm and personality, Claire and her staff work seamlessly with vendors and bands, and our guests LOVED walking around and browsing all the cool exhibits and galleries before the ceremony, during the cocktail hour, and even during the reception. HIGHLY recommend.
The venue speaks for itself - perfect location right on the harbor with fun and interesting decor that doesn't require any extra work. However, it's the staff that made our wedding at BMI so memorable. Wedding planning is known for being a stressful time with a million little details to take care of, but the staff were so easygoing yet helpful and efficient that we didn't have a single worry. We went with Zeffert and Gold catering, which has worked at the venue for years, so there were no planning headaches or logistical difficulties with which we had to grapple. It feels superfluous to give this place a positive review as it's obviously a wonderful choice, but due to the great service and wonderful evening we had, we want to make sure everyone knows about it.
The Baltimore Museum of Industry is the BEST wedding venue in Baltimore! We were so happy to have chosen it for our wedding reception. The BMI is an incredible value, and provides such a unique backdrop for a wedding. Claire, Kelley, and Angie were all great to work with during the planning process and during the actual event. The museum interior is so cool, and our guests loved exploring and checking out various exhibits. I felt that we didn't have to put too much thought (or money) into decor aside from flowers, because it is built-in! The location on the water can't be beat. We were lucky enough to have perfect weather, so we had our cocktail hour on the terrace overlooking the harbor, and our guests were able to go in and out all night long. We haven't yet received our professional wedding pictures, but the BMI provides so many amazing options for photos! We had a blast posing for them with our bridal party. We received many compliments from our guests about the venue, and it was a huge factor in making our reception so perfect!
Show More Reviews
Contact Person
Kelley Edelmann
Address
1415 Key Highway, Baltimore, 21230
Is your facility handicapped accessible
Yes
Is outside kosher catering permitted?
Yes
Is kosher catering available
No
Does your facility have guest rooms
No
Is the facility indoor only, outdoor only, or both?
Indoor and Outdoor
Does your facility have air conditioning
Yes
Facility size (square footage)
Please provide
Facility size (square footage)
8000 SF
Maximum capacity with dancing
250
Maximum capacity with dancing
250
Maximum capacity without dancing
500
Maximum capacity without dancing
300
Facility restrictions
Visit our website for a list of recommended caterers
Facility restrictions
Must use an approved caterer from museum list. Events can't begin until 6pm and end by 12am. Visit www.thebmi.org.
Rental fees
Call for Details
Rental fees
Call for Info