Wedding favors are a couple's way of thanking their friends and family for supporting them on their special day. They can also serve as mementos of the occasion, reminding guests of the great time you shared together.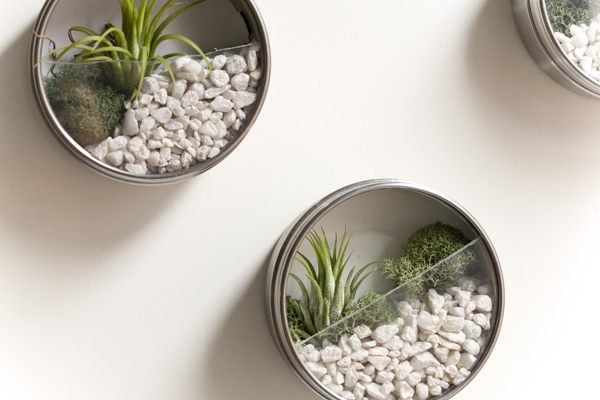 Photo Source: Ruffled
Finding just the right favor can be quite a challenge, however, as it needs to be something that both looks great and can be purchased in bulk without killing your budget. Because of this, many couples are choosing to create their own wedding favors, which can not only help expenses, but also adds a personal element to these gifts. Here we've listed ten of our favorite DIY wedding favor projects!
Homemade goodies. Like to bake? Have a friend or relative who likes to bake? Use a favorite or family recipe to cook up a few batches of homemade treats such as cookies or brownies and bag them individually in your chosen packaging. Just be sure to choose a recipe that will keep well so you don't have to make them all at the last minute. Also, don't forget to label each package with the ingredients so that guests will allergies will know whether or not they are safe to eat.


Personalized CDs. If you're looking for a wedding favor that's truly personal, how about burning CDs with music that has meaning for you and your partner or with songs that were played at the wedding. All you need are a lot of blank CDs and a computer with software like iTunes or Windows Media Player. You can find label and CD sleeve templates online to customize the look of the CD and the packaging. For example, here is a cute sleeve template available for free.


Mini potted succulents or herbs. Succulents make great favors because they come in many varieties and are nearly impossible to kill, making them suitable for even those with no experience caring for plants. Your guests can use them to add a touch of green to a living room or kitchen. If you're looking to give something more practical, why not opt for miniature potted herbs like rosemary, parsley, and mint for use in the kitchen? The fun part is choosing what kinds of containers to plant your favors in—from teacups to tiny flower pots or recycled cans, there are endless possibilities. For instructions on this project check out this tutorial from Weddings by Lilly.


Spring bulbs or seed packets. Wonderful for weddings in the spring or fall, these plantable favors have the added benefit of being cost-effective and good for the environment. Once planted, the flowers which blossom from them will serve as reminders of your wedding each growing season. Don't forget to give your guests instructions for planting and caring for their seeds and for a touch of personalization, add your own tips for gardening.


Tiny terrariums. Here's a unique project sure to wow your guests! These mini terrariums are a wonderful way for guests to bring a little patch of the outdoors into their office or home. If you love crafts and don't mind getting your hands a little dirty, these could be perfect for you. As a bonus, the materials cost next to nothing, especially if you use recycled glass containers. For some awesome tutorials on how to make different types of mini terrariums, check out the following: vertical wall terrarium from Ruffled, light bulb terrarium from A Subtle Revelry, and this cool Christmas ornament terrarium from Green Wedding Shoes.


Ingredients in a bottle. If you're looking for a DIY favor that's quick, cheap, and easy to put together, these homemade kitchen kits could be for you. Just layer the ingredients to a sweet or savory treat in a mason jar and include a cute label with the ingredients and cooking or baking instructions. It's that easy! For ideas, check out Allrecipes.com for a great soup-in-a-jar mix or for something sweet, try this awesome Mason jar cookie mix recipe from Something Turquoise.


A candy or trail mix buffet. Let your guests select their own favors with a candy buffet! All you have to do is choose a variety of candies (you can even tie them into your wedding colors) and make them available in various containers on a table. Provide bags or boxes so that guests can carry home their selections and voila! A perfect wedding favor! You can find instructions here, from Project Wedding. Or, for a healthy version of this idea, The Art of Weddings provides tips for making a trail mix buffet!


Magnets. These adorable fridge magnets are a quick and easy DIY project found on the blog, Mr. and Mrs. Phillips! You can personalize them with paper or fabric in the colors you've chosen for your wedding or simply select patterns that suit your tastes. Create a set of a few for each of your guests and box or bag them up in a cute little package.


Homemade infusions. If you're the kind of person who likes to get things done with plenty of time to spare, infusions are a great choice! Not only are they easy and inexpensive to make, but they're a practical favor that your guests can use, so you won't have to worry about your efforts going to waste. You can find instructions for how to make vanilla extract here via Ruffled. Or, if you'd prefer a touch of the Mediterranean, you can check out Martha Stewart Weddings for instructions for making rosemary-infused olive oil. For those who prefer to give their guests something more celebratory, this tutorial from About.com will teach you how to infuse spirits with various flavors.


Birdseed hearts. If you're looking for favors that are eco-friendly, these heart-shaped birdseed blocks are a perfect gift for guests to take home for their gardens. Use them as decorations at the wedding or wrap them up for guests to take away at the door. You can find instructions from Intimate Weddings on how to make them here.