If you're planning your wedding, you probably already know the struggle that is coming up with your guest list. Whether it's due to the capacity limit on your dream venue or a painful strain on your budget, you may very well find yourself faced with the tricky task of having to figure out how to lower that head count to a more manageable number.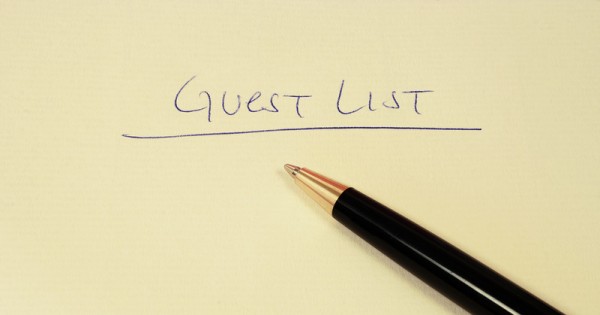 Here are some quick tips for shaving down your guest list:
Check out A North Jersey Bride's Guide to Keeping Flowers Fresh!
Searching for the perfect North Jersey venue? Click here! Searching for event professionals? Click here!
Plus Ones: Wedding planners often suggest limiting the plus one invitation to those who are engaged or in a longterm relationship. Have a friend who has a new date every other week? Do you really want to drop $100 or more on a dinner for their boyfriend you haven't even met yet and probably will never see again? These are probably the easiest guests to cut out, so start with them.

Parents' Guests: Your North Jersey wedding is a special day for your parents' too, and it's only natural that they will want to share it with their own friends. If you're worried about your budget or venue capacity, let your parents know that these individuals may be placed on a "wish" list. Ask them to make a list of the people they most want to have present and prioritize from there.

Back Up Lists: Many planners suggest having an 'A' list for your VIPs and a 'B' list for those you would love to have at the wedding, but aren't quite as essential as the first group. This method actually takes a bit of organization, because the idea is to replace A list declines with people from your B list. This has to be done quickly to avoid your B list invitations going out too close to the RSVP date, so you have to make sure to stay on top of things.

Children: Some people know from the beginning whether or not they want to have children at their event. If you're looking to cut down on your guest list, however, you may want to consider extending invitations only to the adults. If there are complaints from parents, you can easily tell them that it's due to the venue's liability prohibiting children younger than 18. This, of course, excludes any children involved in your event, such as the flower girl or ring bearer. If you're still on the fence, consider that children's catered meals are usually around half the price of adult meals, which means you could end up paying $45 or more for a plate of french fries and chicken fingers.

Co-workers: Unless you're very close with your bosses and co-workers and have a friendship that extends outside of work, you shouldn't feel an obligation to extend them an invitation. Trust us, they will understand. However, if you don't intend to invite the folks at work, you should try to keep in-office wedding talk to a minimum to avoid any hurt feelings.