So you've set your budget, done your research, and come up with a final list of your top two or three choices for the place you'll have one of the most important celebrations of your life. Congratulations! Before you make that final choice, however, you're going to want to schedule a formal site tour of each of the North Jersey venues on your list.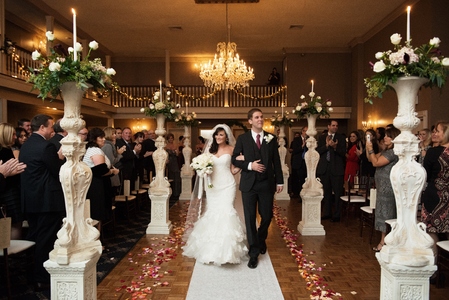 Photo Credit: David's Country Inn
I know, site visits take a lot of time and effort--say goodbye to at least a couple of weekends--but they are so very important when it comes to helping you get a sense of whether the venue is right for you. Here are some ways a tour of your North Jersey venue can benefit you:
Pictures can be deceiving: Venues are a business and like any business, they tend to put their best side forward. By visiting the venue in person, you get a much more objective view of the space and what it has to offer than if you simply browse through the pictures on their website. This will help you determine if the photos you've seen were simply the venue's "good side" or if it is truly a gem with incredible architecture and lush green landscaping.
Meet the Event Coordinator: The site tour is a valuable opportunity to meet the venue's representatives in person and get an impression of how you will be treated during the planning process and beyond. Having an in-person conversation with the site's event coordinator will go a long way towards putting you at ease in knowing you will be well taken care of--or to alert you that you might be better looking elsewhere.
Envision your wedding space: Visiting the location in person helps you to understand the placement of stations, seating, entertainment, and the ceremony, itself. You'll get a feel for the size and atmosphere of the venue and whether it reflects your wedding vision. This is helpful not only in practical terms--you'll be able to check out the bridal suite and restrooms to make sure they are big enough and get a better idea of your event's logistics--but it will also help you get inspiration for decor and potential themes.
Scout out spots for photo ops: See in person that stunning tree with the mini lights at night or the combination of brick and wrought iron by the entrance. Find where the best lighting is with the photographer so you can use that time for your wedding photo session!
Get help mapping out directions: The best way to figure out whether your guests will have a hard time finding the location is to drive there yourself. This way you'll be able to provide better directions and warn them of any hiccups you encountered on the drive.
Check out available parking: See first-hand if there is sufficient parking for all of your guests. If there's no on-site parking, visit the parking garage that the venue has partnered with. It may turn out to be more practical or convenient to have a shuttle available for your guests and if so, you'll want to know sooner rather than later.