Planning a wedding can be pretty overwhelming. For most people, it's the biggest event they've ever been in charge of putting together and, just like with any task, that lack of experience can result in some hiccups. That's the whole deal with professional wedding planners: they're people who have been through the process so many times that they know exactly how to navigate the planning process in the easiest and most efficient way.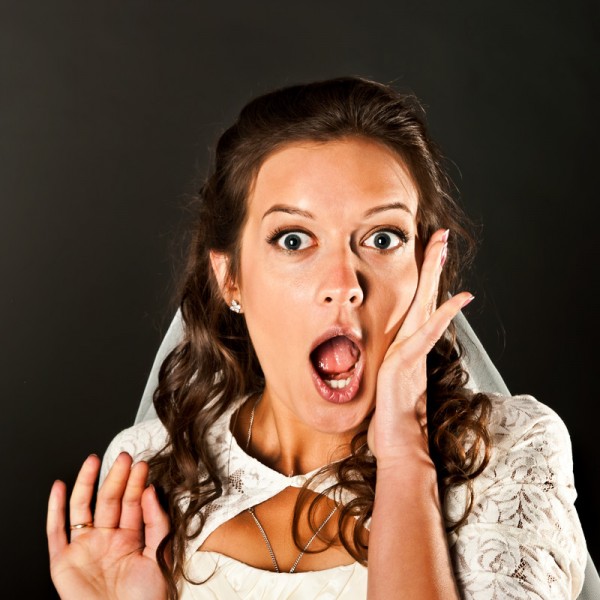 While nothing really beats experience, "forewarned is forearmed," as they say. Here are some common mistakes brides make when planning their weddings:
Booking a venue before working out the guest list. Venues can fill their calendars up pretty quickly, especially if they're popular, so it makes sense to book yours as soon as possible. However, one thing you absolutely have to take care of first is your guest list. You don't need it finalized or anything, but you need to know if you're working with 50 people or 300. That's going to make a big difference in determining where you have your wedding and you don't want to book your venue and then realize that your guests are going to have to be packed in like sardines or that the size of your party will be dwarfed by that massive ballroom.
Not coming up with a budget first. Figuring out your budget should be step one in the planning process. It's important for knowing how big your guest list can be, it's important for knowing what kind of venue you can afford, and it can even play a big role in choosing your date. Once you've come up with your budget, stick to it! Nobody wants to start their married life in debt, especially when it can be easily avoided.
Buying a dress before you've decided on a date and venue. The season of your wedding and the venue you choose are going to have an influence on the kind of gown you'll want to wear. Just think, if you go out and buy a gorgeous, elaborate ballgown and then decide that the perfect place for your wedding is out on the beach, it will be a little difficult to reconcile those two styles. Having a date picked out will also help you plan for the weather. Knowing when and where you will be having your wedding will also give your dress shopping experience more direction and make it less overwhelming.
Not having a back-up plan for rain. If you're planning an outdoor wedding, you should always have a rain plan. Ask your North Jersey venue what they usually do in case of precipitation or strong winds—chances are they've done plenty of outdoor weddings before and will know what to do. Even if it means renting a tent just in case, that will still be better than everyone getting drenched in a surprise downpour.
Not getting references from your vendors. You are going to be handing over very large sums of money to your vendors. There is absolutely no reason why you should book them without making every effort to ascertain that they are as good as they seem. Always ask them for references and follow up on those references. Contact people who have used them before and ask about their experiences. Do not hire a band unless you have heard them play—whether in person or on a recording. Don't assume that just because a vendor is expensive that they're also good—check them out. On the other hand, once you have done your research and chosen your vendor, let them do their job—communicate to them clearly what you want from them, but don't try to micromanage. You hired professionals so that you wouldn't have to worry about their ability to get things done.
Not reading vendor contracts. It may sound like common sense, but you should always know exactly what you're paying for when you sign your vendor contracts. Fine print can have a habit of sneaking up on you and you're dealing with big enough numbers that it seriously pays to take the time to read over the agreement. Often sales tax, service charges, and gratuities aren't included in a vendor's quoted price, and that's something you're going to want to know. If you aren't very good at reading contracts, ask somebody else to go over them with you. It'll be worth it.