Planning any celebration involves a lot of steps. Venues, caterers, guests, decorations, invitations.... and then there's the things that make the event especially fun: Photographers, musicians, and decorators. If you're planning a celebration and searching for the perfect vendors, here are seven of our favorites.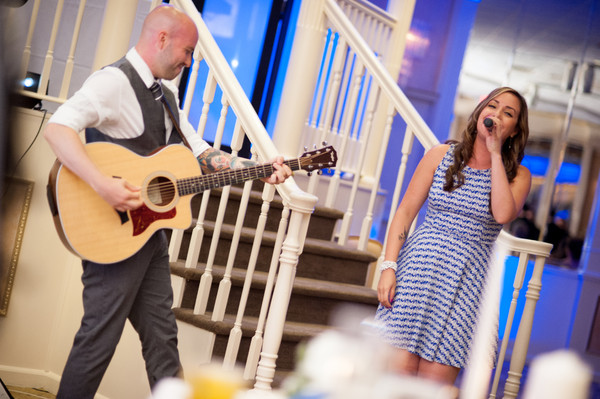 Photo Credit: 3 West Productions
Sunnyside Gardens & Gifts: Sunnyside Gardens and Gifts is a "full-service floral shop" that " crafts each bouquet with the freshest flowers available and with great attention to the sensitive nature of floral gifts." No matter what type of event you're planning, this vendor is sure to help you make it beautiful!
3 West Productions LLC: Matt and Nissa of 3 West Productions are musicians and professionals who "understand and value the essential combination of elements to ensure the perfect experience." These musicians are sure to bring fun to your next celebration.
Byrdgrass: Byrdgrass is a band that has performed on stages stretching from New Jersey to the Adirondacks. The group uses "dynamic harmonies backed up by various traditional acoustic instruments, blended with electric guitar and drums."
Ore Make-Up: Karen of Ore Make-Up Design "has taken part in giving their clients the utmost level of confidence that captures elegance and personal style. Karen's craft of makeup artistry along with her passion for perfection, are what inspired her to establish Ore' Design." this vendor offers services ranging from pre-wedding consultations to events and media production.
AnnMarie Sciascia Photography: AnnMarie Sciascia Photography will capture your special day from the smallest of details to the grandest of gestures, we delight in your joy and understand the immense importance of this very special event" with images to be treasured for generations to come.
Gerard Tomko Photography: Gerard Tomko Photography will use "pure artistry" to capture your special day. Jerry "has managed to stay on top of the ever-changing digital photography revolution and be consistently cutting edge with his work." and his work has been featured in numerous publications and recognized internationally.
Family Florist & Gifts: Family Florist & Gifts will help you "surround your guests in a floral wonderland with beautiful centerpieces and decorations" at your next celebration, whether it's a casual waterside gathering or a formal, black-tie affair.
Check out Picking Vendors for a New Jersey Wedding!
Still searching for that amazing venue? Click here! If you want more information on the vendors listed above, click here!