Weddings don't have to be big, extravagant affairs. These days many couples are opting to go small, choosing to share their wedding day with only their closest family and friends.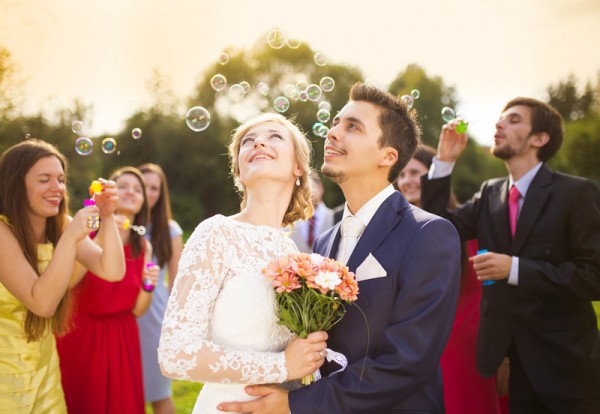 These intimate weddings, which typically include 75 or fewer guests, can often mean a more personal celebration for everyone. Here are a few other advantages of planning a small wedding:
Save and reallocate money. Weddings can be very expensive and a smaller guest list is one of the best ways to whittle down the cost of your "I dos" if you're looking at a tight budget. One of the biggest costs when it comes to a wedding is the catering bill, which is calculated using a head count of your guests—with fewer guests, you will be able to significantly reduce this cost. In addition, you'll need fewer tables, decorations, favors, linens, etc. and you'll spend less on the bar. Even if your budget is fairly roomy, having a smaller wedding can be a way to make that money stretch further so that you can plan the event you've always wanted without having to cut corners. The money you save on catering and other expenses by having fewer guests can be funneled into other aspects of your budget, whether it's the venue, flowers, band, food, or decorations. With the ability to pay more attention to details, you will be able to give your guests a truly unforgettable experience.


More venue options. A big wedding requires a big venue. When you plan a smaller wedding, you are afforded a lot more flexibility when it comes to an event space, including less conventional options. Have your wedding and reception in an art gallery, a private garden, a museum, a cozy bed and breakfast, on a yacht, or at your favorite North Jersey restaurant. Many venues which traditionally host larger weddings also have spaces available for intimate celebrations.


Involve your guests. One of the most wonderful advantages of an intimate wedding is that it gives you the option to make your guests part of your ceremony. Have each of them read a line of a prayer or stand in a circle around you as you say your vows. Make them part of the wedding procession or have them "warm the rings" in a ritual where the rings are passed from guest to guest before being exchanged by the bride and groom. Giving your guests a role can help to make the event more memorable and meaningful for everyone—especially since those present are your nearest and dearest loved ones.


More quality time. Think of all the big weddings you've been to where the bride and groom spent the reception moving from table to table trying to get a few minutes in with each and every guest. With so many people to greet one after the other, this task can be exhausting for newlyweds and they often miss out on the meal and other reception details they've spent months planning so carefully. In addition, they don't really get a chance to spend any substantial one-on-one time with individual guests. A small wedding enables the couple to interact with their guests on a more intimate level, really sharing the day with them.


Be eco-friendly. For all the joy they bring, weddings don't tend to be particularly kind to the environment. In fact, according to The Green Bride Guide by Kate Harrison, the average wedding produces 400 lbs. of garbage and 63 tons of CO2. By planning a smaller wedding, with fewer guests, you can help to reduce the impact of your big day on our planet.


DIY is easy. If you're the crafty type who can't imagine having a wedding without a DIY project or two, it's worth taking note that a smaller wedding will mean less spent on project materials and a smaller time commitment. This can be a godsend if you're like me and tend to underestimate the amount of time a project will take.


Less stress. While smaller doesn't necessarily mean simpler, coordinating an event for ten people is generally less daunting and anxiety-inducing than coordinating one for 100, especially if those ten people are close friends and family. You'll find that the reduced number of guests will give you more flexibility in the planning process and more time to focus on the details. RSVPs will also be a snap!