Are you looking to show appreciation for your bridesmaids who have supported you through your journey over the years? Yet, finding a great gift that will sincerely convey your appreciation can be a challenge.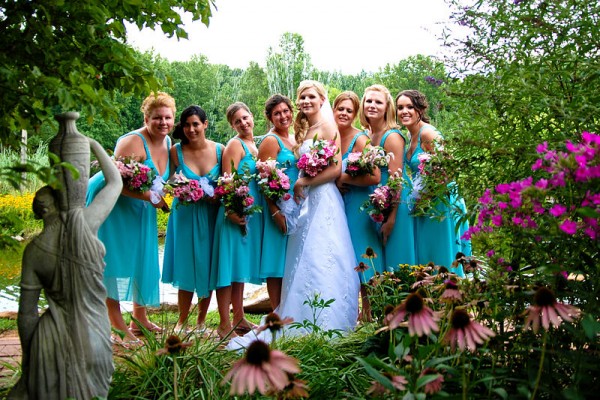 Photo credit: (c) CanStock Photo
We've come up with some excellent tips on how to choose the perfect presents for your bridal party after browsing feedback from hundreds of bridesmaids on the best (and worst) gifts they have received,!
1. Create a gift budget first. Just like with your wedding, first arrive at a budget so your price range is established. Figure out how much money you can realistically allot to gifts for your bridal party and then divide that number by the number of your bridesmaids. This can help keep you from going overboard and provides a concrete starting point for your search for great gifts. And remember, while it's certainly not necessary for you to get the same thing for all of your bridesmaids, it's a good idea to try to make sure that all of the gifts are worth about the same to avoid unintended displays of favoritism or hurt feelings.
2. Always include a personal note to thank them. A thoughtful, handwritten note can mean a great deal: in many cases more than the gift, itself. These girls are special to you or you wouldn't have chosen them to stand by your side at your New Jersey wedding! Show them how much they mean to you with a personal message of gratitude. Even if you feel you aren't gifted with words, the gesture is likely to go right to their hearts and make them feel truly appreciated for all of the hard work they've put into helping you with your big day.
3. When wrapping gifts, make sure small items can't get lost or missed. It may be tempting to hide extra goodies in the wrappings of your gifts, but beware! Your bridesmaid may not notice that pair of gorgeous earrings tucked into the tissue paper inside her new wine glass and unknowingly toss them! To avoid these mishaps, package your gifts so that they can be easily noticed, especially if they are diminutive. Or, at the very least, alert your bridesmaids of any small items tucked away.

4. Personal touches are important. Your girls are individuals and you love them for who they are! Make them feel recognized with gifts which reflect their styles and personalities! This doesn't mean you have to buy completely different gifts for each woman, but your gift should be something you know they would like. If you have a bridesmaid who rarely wears make up, then buying all of your bridesmaids cute cosmetic bags filled with makeup is probably not the best choice. Some brides choose to purchase different gifts for each of their bridesmaids to reflect their interests and others choose a particular item, like wristlets or jewelry, and then find styles, patterns, and colors which will appeal to each of their girls. Show them that you recognize their individuality and distinct tastes by not trying to give them all the same cloned gift. They will definitely appreciate it!
5. Pick something they will want to wear/use after the wedding. Tank tops and bathrobe with "bridesmaid" or "maid of honor" printed across them are cute in theory, but what about after the wedding? It's important to think about the long term when giving a gift like clothing or tote bags, because they are meant to be reused. Even though your girls will surely love to remember the role they played in your New Jersey wedding, they might not be thrilled about proudly proclaiming that role as they go about the rest of their lives. The same goes for items stamped with your wedding date: your friends love you, but do they really need your anniversary engraved on their jewelry? If you'd like to give personalized items, monograms or your bridesmaid's name are great alternatives that can be used over and over again.

6. Give them something you would love as a gift. Think about the kind of gifts you would like to receive as a bridesmaid—this mindset can help steer you in the right direction when it comes to shopping for your entourage. If you've been a bridesmaid before, think of the gifts you've gotten in the past and determine which ones worked and which ones didn't. Chances are, if you couldn't figure out what to do with that quick-tarnishing jewelry box engraved with the bride's wedding date, your bridesmaids won't either!

7. Pick up the tab. The number one gift that bridesmaids agree they would appreciate is simply for the bride to pay hair and make-up expenses for the big day. The title of bridesmaid can put some serious pressure on a girl's bank account, especially if she's just out of school. Between bachelorette parties, bridal showers, bridesmaid dresses, mani/pedis, hair, and make-up, the cost can really start to hurt, especially if the wedding is taking place far from home! Taking some of the edge off of these expenses is a great way to show your bridesmaids you care!