Even though the bride and groom are the focus of any wedding, we all want to know that our wedding guests have enjoyed themselves on our special day. The good news is that it's easy to make guests feel well taken care of, no matter your budget. Here are some small, thoughtful touches that will leave your friends and family impressed with your hosting skills.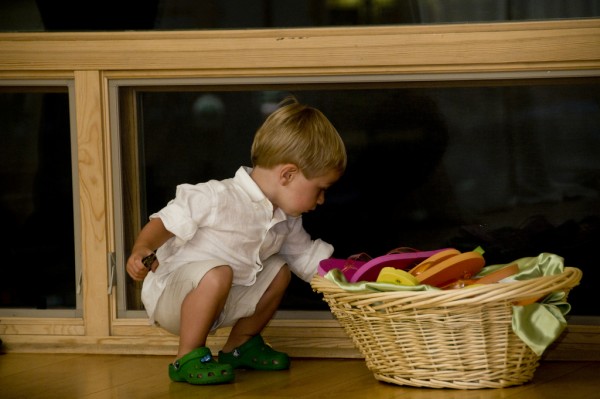 Photo credit:
jmayer1129
/
Source
/
CC BY
Alert guests if events will take place outside. If you have a hankering for an outdoor ceremony or reception, your guests will appreciate a 'heads up' letting them know of your plans. This way they'll be able to dress for the weather and for the terrain. There's nothing like trying to navigate sand or soft earth in heels! This information can also be helpful for guests who have allergies or hay fever, as they'll know to come prepared with medication. You can advise guests of your intentions by including a brief line on an enclosure card with your invitation or have the information available on your wedding website. They will certainly appreciate it!


Bathroom baskets. These helpful kits are becoming an increasingly popular feature at weddings, and it's not hard to see why! Containing solutions for everything from headaches to broken dress straps to wine stains, bathroom baskets are relatively inexpensive to put together and yet can be a lifesaver for your guests. You can find lots of helpful suggestions online for what to include in your baskets, but most baskets include things like safety pins, a sewing kit, breath mints, hair spray, hair pins, band-aids, Tylenol/Aspirin, a stain remover pen, and sanitary napkins. Just make sure you know how big the bathroom counter is at your venue before you buy baskets for your kits.


Safe transportation. You want to make sure your guests end their night safely and it's a thoughtful gesture to give them a helping hand! If you have the budget and many of your guests are from out of town, you might consider providing a shuttle to and from your North Jersey reception venue. If that's not in your budget, you can still make a difference for free by putting out a list of local taxi services they can contact for a ride.


Comfortable seating. How many weddings have you been to where the chairs had you squirming for relief before the ceremony was over? Even chairs that start out comfortable can start feeling pretty hard after an hour. You can easily make any chair significantly more comfortable just by adding a seat cushion or pad. If you're renting the chairs, just ask the provider if they come with cushions or if these can be provided.


Dancin' shoes. After a day in heels, many of your female guests will be more than ready to give their aching feet a break. But what about the dance floor? Encourage guests to get their groove on by providing them with a basket of cheap flip flops in different sizes. You won't need to worry about having a pair for every guest—men will most likely stick to their dress shoes—but it's a thoughtful way to ensure all your guests can enjoy themselves to the fullest without tearing up their feet. Two Twenty One even has a great tutorial for a fun presentation idea!


Provide something to occupy children. If you're going to have little ones at your wedding, it's a good idea to make sure they'll have something to keep them from getting bored. Weddings can seem interminably long to children once the novelty has worn off and once they start getting antsy or cranky they can interfere with other guests' enjoyment. Give them something to do! Whether it's an activity book, a craft table, or games for them to play, providing them with something fun to focus on is a kind gesture, both towards them and their parents.


Helpful outdoor accessories. Outdoor weddings are a lot of fun, but sometimes the weather can be less than ideal. Keep your guests from melting in the hot sun by providing colorful fans for them to use during the ceremony. You can even have your wedding program printed on a fan for a useful keepsake. It can also be a great touch to provide a basket with bottles of sunscreen and bug spray for guests to use. On the other hand, help your guests ward of the chill of cold days provide a blanket station where guests can grab a throw to keep warm. You can get blankets for as little as $3-5 online and they can double as wedding favors!