Adding a personal touch to the aisle of your wedding space is a wonderful way to add an extra personal and unique touch to your North Jersey wedding.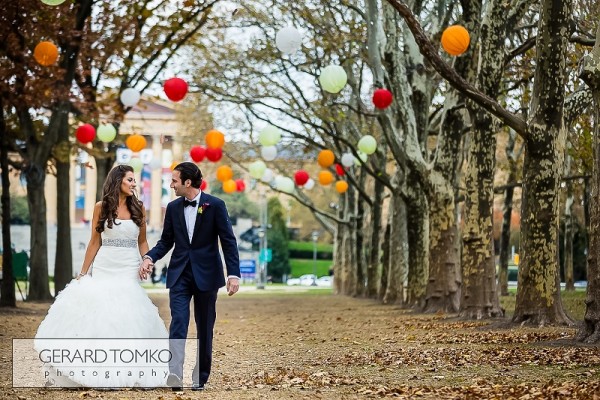 Photo Credit: Gerard Tomko Photography
If you are looking for ways to decorate the aisle that goes beyond the usual flowers and tulle hanging off of the end of a church pew, there are plenty of fabulous ideas, but here are some of our favorites and some ways to get inspired.
A Calligraphy Runner: The most popular choice for a calligraphy runner is probably a detail featuring the names of the couple and the date of their wedding, similar to what you see on an invitation. This is a wonderful option, but it is certainly not the only one. Consider having your vows written on a runner for a unique and romantic touch or ask your North Jersey vendor for other ideas.
Patterns: Who doesn't love a fun pattern? They can add a splash of color and fun to your wedding venue. Stripes, chevron, and polka dots in a variety of colors would all be unique additions to your wedding.
Confetti: Confetti is used in all kinds of celebrations, so why not your wedding? It would be a fun and unique way to decorate the aisle that your guests will be talking about for a while!
Lights: You can light your way down the aisle in all kinds of romantic ways, ranging from lanterns- the gorgeous glass kind with candles in them, old-fashioned lanterns, or paper lanterns- to candles and paper bag luminaries.
Photographs: Photographs of the couple growing up is a sweet and romantic touch to add to your wedding. Plus, this will always be a unique idea since no one will have the same pictures you do!
Flower Petals: Yes, the aisle is usually sprinkled with flowers by a young niece or another family member of the couple, but making your aisle out of colorful flower petals or ombre flower petals takes the idea to an entirely new and different level.
Items Related to Your Theme: If you are having a wedding on the beach, for instance, beach buoys would be a fabulous way to personalize your aisle; just make sure that your guests don't trip over them. If you are having a more rustic theme, perhaps consider using tree stumps or candles to decorate your aisle.
Get Inspired From Your Own Venue: Consider using items from or related to your own venue to decorate your aisle. If you are getting married in a museum, for instance, perhaps look at what the museum displays to get inspired. The possibilities are endless no matter what the venue!