This week we're spotlighting some of our favorite summer venues in New Jersey!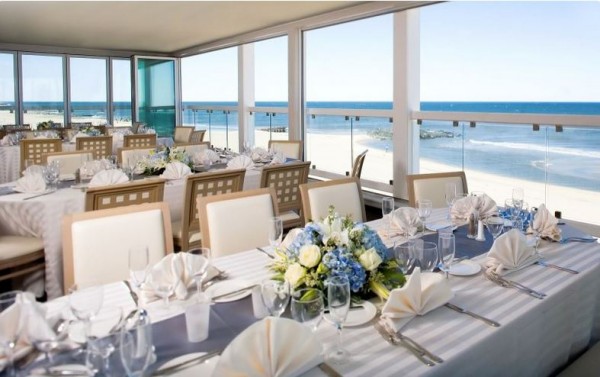 Photo Credit: McLoone's Pier House
Molly Pitcher Inn: The Molly Pitcher Inn is a venue in the Monmouth County town of Red Bank. A hotel wedding and event venue on the Navesink River, it is described as "the ideal location for your water view wedding" and features "a luxury setting, impeccable service, and remarkable food are all components that create an unforgettable Wedding."
McLoone's Pier House: McLoone's Pier House is a waterfront Monmouth County venue in Long Branch. The venue features "breath-taking ocean views of the Atlantic, fantastic cuisine and top-notch service," making it a perfect backdrop for any summer celebration.
Ocean Place Resort & Spa: This Long Branch hotel venue is beachside venue in Monmouth County. What's a more perfect summer venue than one on the beach? Here, you can "recite your vows on the beach while the sun melts into the blue Atlantic waters behind you? Maybe you're planning a beach front affair with the waves crashing in front of the ceremony as a gentle sea breeze drifts through the air." Ocean Place Resort & Spa, "the possibilities at this exquisite New Jersey beach wedding location are endless."
Waterloo Village: Waterloo Village is a rustic Sussex County wedding and event venue that is a restored canal town in Allamuchy State Park on the Musconetcong River with plenty of summer-worthy wedding and event spaces, including "alongside the waters of the canal or walk down the aisle at the Village's wonderfully picturesque church, as brides have done for over a century. Your guests will enjoy sipping cocktails in the rustic pavilion or outside beneath the welcoming shade of the gazebo. When it comes time for that first dance, retreat to the newly-renovated meeting house and then dance the night away on the terrace."
McLoone's Boathouse: McLoone's Boathouse is a waterfront wedding and event venue in West Orange that features "a semi-private or private dining area that is perfect to host your wedding.... situated on the banks of the reservoir, showcasing spectacular views to our guests."
Whistling Swan Inn: This Stanhope wedding and event venue is a cute little inn with beautiful gardens, perfect for an intimate summer event in North Jersey. The Whistling Swan Inn features "elegance and style that allow family and friends to gather in a relaxed atmosphere for your wedding weekend" including "a crackling fire, or step outdoors onto our gracious porch or garden for a ceremony and reception. With its unrivaled charm and rare beauty, carefully tended gardens and grounds, and exquisitely renovated interior… You and your guests will experience the "authentic sense of Victorian charm"."
Rock Island Lake Club: This Sparta wedding and event venue is "a brand new and exclusive banquet and catering facility" that is on the water, perfect for a summertime celebration. Rock Island Lake Club features "private lakefront property on an eleven-acre lake, two islands, waterfall, natural birch tree archway, and a stone fire pit.... natural stone and stucco, open and covered decks with lakeside seating, separate cocktail room, lounge, grand ballroom with hardwood floors, custom inlaid up-lighting, dancefloor lighting and sound system, and a spiral staircase leading up to a spacious bridal suite."
The Palace at Somerset Park: A historic Somerset, New Jersey wedding and event venue, The Palace at Somerset Park features "a grand 72,000 square foot Palladian-style mansion designed in the style of a Neo-Palladian villa. The splendid Newport homes of the Vanderbilts and Astors inspired this unique marriage between Continental craftsmanship and a New World sensibility. The grand sweeping elegance of the main building sets an elegant stage for your celebration… meticulously kept garden areas, innovative restaurant style cuisine, and sheer beauty of the architecture…" with so many indoor and outdoor spaces in which to hold a celebration, this North Jersey wedding and event venue is a wonderful choice.
Smooth Sailing Celebrations: Smooth Sailing Celebrations is a Hudson County-based company that is described as "one of the most unique outdoor wedding reception ideas—with the optional convenience and comfort of indoor dining" while hosting a summer wedding or event "in the ultimate setting of a luxury yacht—smoothly sailing down the Hudson—and the romance of being on the glistening water—slowly passing by the spectacular New York City skyline."
Lake Mohawk Country Club: Like Rock Island Lake Club, Lake Mohawk Country Club is a wedding and event venue in Sparta. Another waterfront venue perfect for a summer wedding or other celebration, this one features "beach or boardwalk outdoor ceremonies with a striking scenic view" in an "idyllic setting"
Check out our last blog, Most Popular PartySpace New Jersey Vendors 2017!
Still searching for the perfect New Jersey wedding or event venue? Click here! Searching for amazing vendors? Click here!