At Waterloo Village, we tend to see our fair share of rustic weddings. The Village's quaint, historic charm, coupled with its peaceful woodland setting, makes it an ideal location for events with a rural, homespun theme. One of our favorite ways of contributing to a rustic aesthetic for these weddings is through the use of farmhouse tables.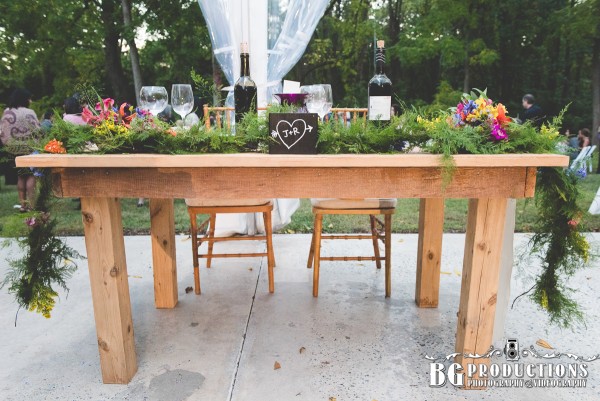 Photo Credit: BG Productions Photography & Videography
Farmhouse or farm tables are sturdy, handmade tables, frequently built using recycled lumber from old barns. The result is that they have a definite "used" and well-worn look, lending them character and a sense of history.
The wonderful thing about farmhouse tables is their incredible versatility. Whether your North Jersey wedding style is rustic-elegant or more casual, the natural wood grain and simple design complement almost any decorating scheme. For a touch of whimsy, pair them with mismatched chairs or, for a more formal affair, dress your tables up with runners and elegant centerpieces. You really can't go wrong!
Farmhouse tables are great for adding a bucolic vibe to your buffet, your signature drink table, and, of course, the seating for your guests. Because these tables tend to be fairly wide, they provide guests with more space and comfort, inviting them to relax and enjoy themselves. This also leaves more room for centerpieces and allows for family style meals for added rustic charm.