Signature drinks and cocktails can be a fun and unique way to add a personal touch to your post-ceremony celebration—one that you can be sure your guests will love!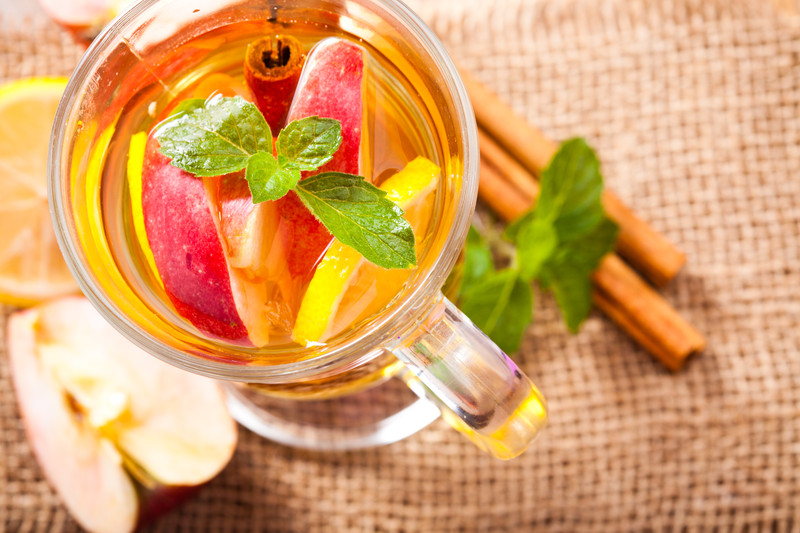 With autumn just around the corner, we asked Carolyn Clark, event coordinator for beautiful and historic David's Country Inn, for some of her favorite fall cocktail ideas to help spice up your wedding reception. Here's what she told us:
---
Q) How can festive drinks help set the mood for an event?
"A lot of our couples love that a festive signature or specialty drink will help set the tone for their events. While everyone can absolutely enjoy a full open bar at a wedding, a special, festive drink, be it seasonal or picked to play into the theme, adds a nice finishing touch and offers guests something new to try.
"At any time of year, but especially during the fall, people get so excited about seasonal flavors. While summer calls for a light fruity drink, autumn brings crisper, chillier weather—perfect for drinks that are a little heavier.
"Even when going with something that's not necessarily seasonal, festive drinks still offer a lot to an event. Many like to choose something that will match their wedding colors, like a Blue Margarita made with Blue Curacao. Others still like to use the drink to capture the vibe of the party. And still others love the vintage feel of our venue, and old-school cocktails like a sidecar, gin rickey or gimlet evoke the chic style of ages past."
Q)  What are your top 5 favorite Cocktail ideas for a fall wedding and why?
"Autumn is a great time of year to go with seasonal flavors—there's so much going on!
"Apple cider is a must, and it's the base of a lot of my favorite fall drinks:
Keep it simple: Some guests might just want to drink it, sans spirits. But add a little spiced rum, like Captain Morgan, to it, and the drink hits a new level. Or spice it up a little more with a cinnamon liqueur—like Fireball Cinnamon Whiskey Liqueur. The cinnamon will warm your guests up on a brisk evening. Or maybe that's the whiskey doing the warming.
Add to a classic: There are some great ways to add it to several well-known cocktails, and it pairs particularly well with the classic Dark and Stormy. For this drink, you want dark rum, ginger beer (different from ginger ale), apple cider, and just a splash of lemon juice.
Fruit and Fruit: Wine and fall seems like a natural fit. Grapes are being harvested for a new batch of wine, and guests might start switching from light crisp summer white wines to the more robust reds for the colder weather. Add a new flavor by adding apple cider to the mix—white wine, brandy and cider make a perfect mix. Swap the melon and berries of summer for apples and pears to soak.
"But while apple cider offers a lot of different ideas, most people also anticipate the return of all things pumpkin spice as fall nears! Take advantage and offer up some pumpkin libations for your guests.
Just Like Grandma's: Lots of companies are responding to everyone's love of pumpkin, so check out something like Kahlua's Pumpkin Spice. Blend it up with pumpkin puree and some Frangelico for a drink that tastes just like Grandma's pumpkin pie.
Good, Simple Beer: And sometimes your festive drink doesn't have to be a fancy cocktail. Maybe your guests aren't in it for the liquor, but want something a little different. Pumpkin beers are all the rage during the autumn. Check in about making your favorite brew available, keeping in mind that availability might be limited based on area and distributors. Your guests will love having a hoppy treat with a pumpkin spin. Especially the guys who might feel a little too burly to order a pumpkin pie cocktail."
Q)  How do you like to garnish and serve these drinks for a crowd?
"A cinnamon stick is always a perfect garnish for an autumn drink—and of course an apple or pear slice. And while you might not be able to compare apples and oranges very well, they pair beautifully! Consider orange slices and even a little lemon in your autumn sangria, and include an orange slice on your apple cider. In addition to adding a great flavor to the drink, the bright color pops and helps mimic the beautiful fall foliage everyone loves so much.
"Because we offer a full open-bar with our weddings, we love to have a cute sign to suggest the drink to guests. It's something that's eye-catching and encouraging. It's also another great way for couples to add a little flair of their theme. We've seen chalkboards, vintage photo frames, and a line about the drink on menu cards at the dinner tables. I particularly loved one couple who had a picture of the duo sipping on the drink. The two were looking up, and above them they had written the recipe for the drink in permanent marker. It definitely showed off their fun personalities. A lot of couples are now pairing their drink signs with funny sayings too. A big one right now: 'No great story ever started with eating a salad.' But I also love, 'Of course you can dance! Love, Vodka.' It reminds people that while weddings might be a formal event, it's also a great time to let loose, celebrate, and forget about taking yourself too seriously."
David's Country Inn
Hackettstown, NJ, 07840
908-850-0224