Just because you're a bride doesn't mean you have to dress all in white! Today many North Jersey brides are choosing to express themselves by incorporating colorful elements into their bridal attire.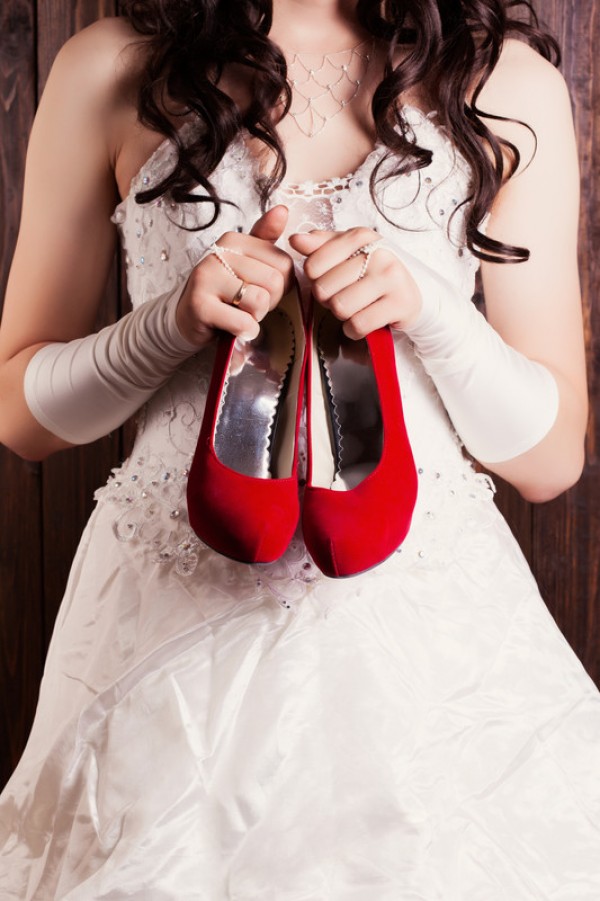 Whether you choose to accent your look with your wedding colors or just pick a hue close to your heart, here are some ways you can use accessories to add a splash of color to your walk down the aisle.
A Belt or Sash: Want to add color to your dress without having to pay for alterations? Tie on a sash or add a belt for an instant transformation. Just keep in mind the importance of balance: if the dress you've chosen is very intricate with lots of beading and lace, you'll want to pair it with a simple accessory for your waist and vice versa. Otherwise the effect will simply be too busy. As an added word of advice, a color-contrasting sash can have the effect of making a short torso look ever shorter, so be sure to consider your body type before you commit to this type of accessory. If you're in doubt, ask your North Jersey bridal boutique for suggestions and advice!
Jewelry: Jewelry can be an elegant way to add a touch of color to your wedding look and is often used by brides as their "something blue." Whether it's a bracelet, necklace, or earrings, you can't go wrong with a bit of sparkle and you can find gems in nearly any color!
A Wrap or Shawl: Perfect for the cooler seasons or just to wear with a strapless dress, a colorful wrap is a practical and stylish way to add an extra burst of color to your wedding ensemble. You can even gift your bridesmaids with matching ones to wear during the ceremony.
Nail Polish: Feeling adventurous? For an extra fun way to achieve that splash of color, take a trip to the nail salon and choose your favorite hue. Have your nails painted to match your bridesmaids or wedding colors or make them your "something blue." Don't be afraid to make a statement!
Petticoats: This fun trend is great for brides who like to think outside the box! Whether your dress is long or short, a colorful petticoat can be the perfect way to spice up your look. With a long gown, the color can even remain hidden for a formal walk down the aisle, only to add an extra pop to your time on the dance floor once your dress has been bustled for the reception.
Shoes: This is one of the biggest wedding trends when it comes to incorporating color into a bride's attire and it's not hard to see why! The pairing of a white wedding dress with colorful heels or flats makes for some fantastic wedding photos and really lets your personality shine, whether you're using your shoes to pick up your wedding colors or show off your favorite color.