Choosing your wedding colors ought to be pretty easy, right? Just pick a few of your favorite shades and call it a day. Unfortunately, as you've probably discovered if you've already tackled this step on your wedding-planning to-do list, it can be a little more complicated than that.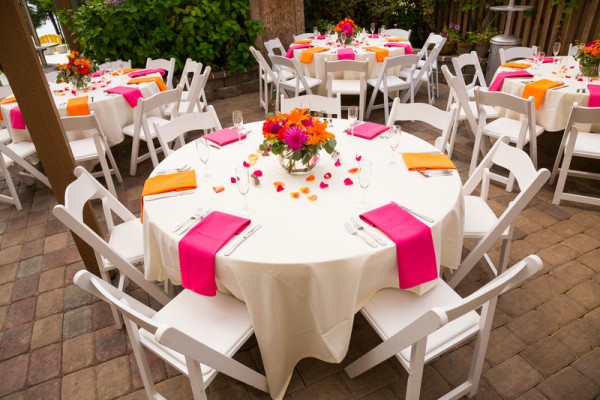 Here are some tips and awesome tools to help you find the perfect palette for your North Jersey wedding day.
Tips
1.Consider your venue. If you already have a venue picked out, you're going to definitely want to take its color scheme into account when choosing your wedding colors. Some venues are pretty much blank slates and play nice with every color imaginable, but others may limit your options a little when it comes to picking your palette. You don't want your color scheme to clash with your venue's carpet or drapes. You don't have to match your venue's colors, but it's best to choose a palette that works with them rather than against them.
2.Consider the season. While the time of year doesn't necessarily have to dictate your color choices, as a rule of thumb darker colors are commonly associated with winter and fall while lighter and brighter colors are considered more appropriate for spring and summer. You can see this at play in the clothing industry when stores change their inventory each season.
3.Don't choose too many colors. It's important to keep your color palette manageable and choosing too many colors can make it harder to unify them into a coherent decorating scheme. Love & Lavender advises that four is the upper limit when it comes to choosing colors and suggests picking at least one "neutral" color like ivory or beige and at least one "bold" color.
4.Choose a color that will complement you and your bridesmaids. When choosing your wedding colors, it's also important to consider that your bridesmaids will most likely be wearing one or more of them. Not every color makes for flattering attire and many colors look great on certain skin tones and awful on others. You want your bridesmaids dresses to be flattering to all of your ladies. If you're not sure where to start, The Perfect Palette has a great article detailing the top 5 most flattering bridesmaid dress colors. On a related note, Exclusively Weddings recommends choosing colors that also look good on you! Even though you won't be wearing your wedding colors, your bridesmaids will be standing next to you in pictures and you will be surrounded by your wedding colors at your reception, so it's best to choose colors that you would look good in, yourself.
Tools
Paletton.com: Paletton isn't specifically geared towards weddings, but it's a really neat tool for choosing and refining your color palette. You can set it to work with complementary colors, adjacent colors, triads, or tetrads and you can choose from tend different preview styles, including viewing your colors in a Mondrian-style mosaic.


Color Studio: Brides.com brings us the Color Studio and they aren't kidding when they say it's addictive! Basically, they have a color wheel that you can spin which will pick a random color scheme and display it on an image of a place setting. You can choose to allow all color combinations when you spin or you can refine your results by selecting a color family, or telling the tool to choose only "similar hues," "contrasting hues" or schemes with "neutral undertones."


Wedding Color Chooser: This is another fun site for choosing your wedding color palette. You can choose a color range, a color base, and a color tint for as many colors as you'd like and save the palettes you come up with. You can also view palettes that other brides have come up with. The color chooser has a really great interface that's easy and fun to use!