As almost any planning professional can tell you, great food and great entertainment are the keystones of any successful event.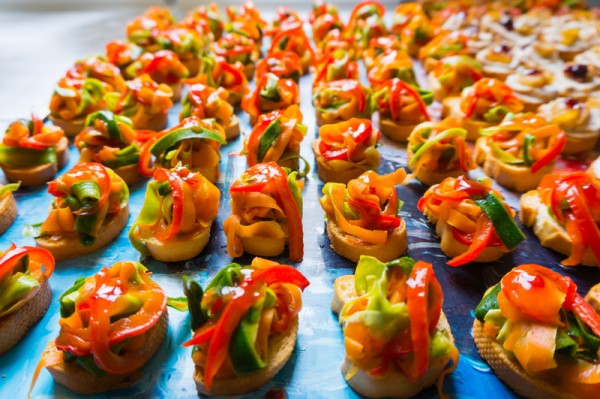 Guests are more likely to remember a delicious meal than they are to remember your wedding colors or what kind of flowers were in your bouquet, so it's important to make sure that you choose your wedding caterer carefully. Here are some tips to get you started:
Set your budget. The number one step in choosing any of your wedding vendors is to calculate how much money you can afford to put towards that particular service. Once you know the total amount you have to spend on a caterer, you can begin to narrow down your options to only include businesses that fall within that price range. This will definitely help make the selection process a lot easier.
Figure out the guest count. Chances are you know that caterers charge by the plate or, in other words, how many people will be eating at your event. The more people there are to feed, the more you can expect to spend on catering. Simple, right? Because of this, the first thing you should do after figuring out your budget, is to get an estimate of how many guests you will be expecting at your wedding. This number doesn't have to be finalized yet, but it's definitely important to have some kind of range in mind, such as 60-85 or 100-150. This will ensure that you can get a more accurate quote when you start actually contacting potential caterers.
Do your research. Not all catering companies live up to the same standards. It's important to take the time to check out the reputation and credentials of a potential caterer before you sign their contract. One good tip is to ask around for recommendations from friends and acquaintances who have recently tied the knot. Online reviews are also a really great tool for gathering information about how a caterer works and how you can expect them to perform at your event.
Make contact. It's time to start making calls! It can be helpful to first make a list of all the questions you would like to ask potential caterers about their services and to ask all of them the same questions so that you can more easily compare them. Be sure to take notes on what each company has to offer. You should also pay close attention to how you are treated by the representative and how well you connect with them. Do they seem reliable? Would you feel comfortable working with them? Do they seem to be able to see and relay your vision of your wedding?
Get a quote. Now for that quote! When you request a quote from each caterer, make sure that it includes not only the food, but also things like china, glassware, linens, flatware, chairs, cooking equipment and staffing. You don't want the prices for all of these necessities to blindside you later when you thought they were included in the original quote!
Schedule a tasting. Here's where it gets fun! It's finally time to put your caterer's skills to the test. Contact your top choice caterers to set up a time for a tasting, when you will get to sample different items from your potential menu. Depending on the caterer, your tasting may be complimentary, or you may be charged a small fee to cover the cost of materials.
Read over the contract. Ugh, yes, contracts. All vendors have them, and as tedious as they may be, it's extremely important to read your catering contract carefully before signing it. Check that all the equipment and services you have agreed to are listed and make sure you fully understand the terms of the agreement. Don't be afraid to ask someone else for help if you have any doubts.
Make your selection. When all is said and done, your choice should ultimately be about the North Jersey caterer that makes you feel comfortable. Sometimes it's not the most or least expensive caterer, but the person or company that makes you feel at ease. A good caterer will work with you you every step of the way, will be able to accommodate concerns such as dietary restrictions and allergies, and will be able to help you design a menu that perfectly reflects your vision for your big day.