Wedding cakes are a delicious and gorgeous part of many a wedding reception, but the choices you have to make on the way to creating your perfect cake can be many, from shape to decoration to icing and flavors. If flavors are what you're currently searching for inspiration for, here are some tips to keep in mind when searching for those perfect flavors.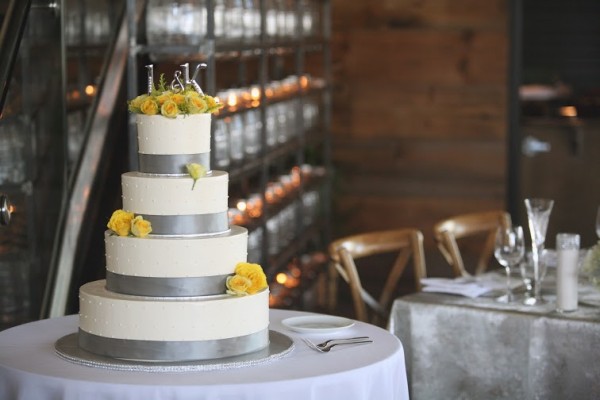 Photo Credit: Battello
Your wedding cake should be something you pick out after you have chosen your venue, theme, colors, even your wedding dress, and after you have finalized your guest list. This is because you can't coordinate the colors or design of your cake with your theme or colors if you don't know what they are; it is also hard to take the size of your venue and how many guests you will have if you haven't made final decisions on any of these parts of your special day.
Just like you have budgeted for everything else in your wedding, have a budget for your wedding cake, too. Cakes can be expensive and the cost can quickly spiral out of control if you don't have a price point in mind to keep to. Consider talking to your New Jersey vendor if you're unsure about a budget for a cake.
If you are having a cake with multiple tiers, remember this: It is okay to have more than one flavor in your cake. Consider making each tier a different flavor. While it is true that you should have what you want on your wedding day, keep in mind that not all of your guests are going to love red velvet cake as much as you do or have an undying love of carrot cake like your significant other does. This does not mean you have to keep a running tally of the favorite flavors of all 150 of your wedding guests, but picking a couple of different flavors means that everyone is bound to find something they can enjoy. Plus, it means that you and your significant other don't have to narrow it down to just one flavor- it's okay if you both like lemon cake, but you won't even consider a cake if there's not red velvet involved and your significant other might just mutiny if there's not carrot cake. You can go with all three, everyone gets what they want, and your guests will appreciate the variety! Everyone wins!
Are you still stuck trying to decide between more flavors than there are layers of your cake? There's even an answer to that, and it's not to add more layers to your cake (although no one is stopping you if you want to do that!) Consider pairing flavors of cake with fillings that complement it. For example, if you're debating between strawberry and chocolate for your final tier, consider a chocolate cake with strawberry filling- cream or real fruit will work!- or even a strawberry cake with chocolate filling. The combinations are as endless as the options for flavors.
Another thing that's great about cakes with tiers is that it allows you to accommodate members of your family who might have health issues. For instance, if you know that many of your family who will be at the reception are diabetic, considering making one of the layers of your cake sugar-free. It will allow all of your guests to enjoy your cake instead of having to miss out. Cakes can even be made to accommodate allergies and other sensitivities, such as guests who might be unable to have gluten.
Finally, a note on frosting: While it is fine to have fondant on your cake, especially if you like how it looks, consider adding a layer of frosting between the cake and the frosting. Fondant is pretty, but it doesn't always taste very good. The frosting will allow for everyone to still enjoy the typical frosting they love while you still get the look you love from the fondant.