Wedding favors can be a cute way for your guests to remember your special day long after the actual day has come to an end. Non-edible wedding favors are a great choice, but you might run the risk of having your guests leave them behind at the reception. To prevent this from happening, consider making your wedding favors something your guests can actually use.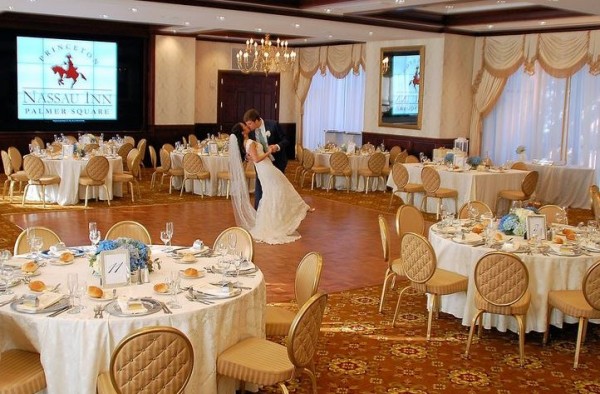 Photo Credit: Nassau Inn
If you're holding a wedding in the spring, summer, or fall, sunglasses are a great option for wedding favors, especially if your ceremony is being held outdoors. You actually want your guests to see what you invited them to see, after all!
Candles would be a sweet and romantic way for your guests to remember your wedding. If you decide to offer candles as your favor, consider offering both scented and non-scented options- some guests may be sensitive to scented candles.
If you are looking for a way to cut costs on wedding favors, consider offering glasses as your wedding favor. Guests can drink out of them at the reception and keep them as their favor; it is something that they can use for years and always remember your special day.
Sparklers are a fun way to have guests send off the happy couple in place of rice or bubbles, and can double as a wedding favor!
If you're a gardening enthusiast or having an outdoor or garden wedding, seeds or plants would make a wonderful favor, another that your guests can enjoy for years to come.
Like candles, soap is another great idea for a wedding favor if you choose not to go the food route, and something your guests will certainly use. However, like candles, be sure to offer both scented and non-scented options, because of the guests who may be sensitive to the scents that can be in soap. They won't enjoy it if they can't use it!
Besides sunglasses, bottle openers are also a favor that your guests might be able to use right there at the reception if you decide to offer bottled drinks. You can ask your New Jersey vendor for other fun ideas.
Finally, if all of these things put you in mind of the type of favor that your guests will never use or has you wondering if most of them will even make it out of your venue in the hands of guests, consider taking the money set aside for wedding favors and donating it to the charity of your choice in honor of your guests instead. The money will go a long way for some worthwhile charity and your guests will see it as a nice gesture.