Is your ring finger looking a little more sparkly of late? Congratulations! Perhaps it's been sparkly for a little while, and you're starting to think about your wedding rings. There are so many different parts of the ring to consider and so many different options, it can all be a little overwhelming. Or you just like them all and can't even imagine having to pick one!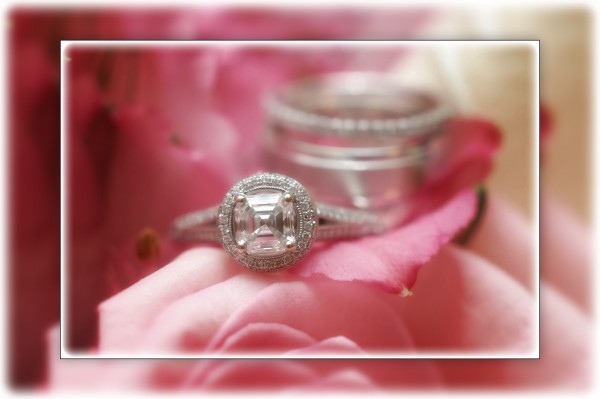 Photo Credit: AnnMarie Sciascia Photography
When deciding on a wedding band, one of the easiest things to do- especially if both of you are involved in shopping for the engagement ring- is to simply pick a matched set of rings from the beginning. Then, when it comes time to decide on wedding rings, you've already made the decision.
If it's too late for that, though, you can still look to the design of your engagement ring for some hints, but let's get one obvious thing out of the way here: they should match.
The most obvious way in which you can match your engagement ring and your wedding band is in the metal. If the two types of metals are the same, this makes for both a cohesive look and for ease of care, because you can take care of both rings the same way as opposed to having to do one thing for your engagement ring and another for your wedding ring.
You can also look to the style of your engagement ring. If your engagement ring is more contemporary in style, look at types of wedding rings that match. If your engagement ring is more classic in style, consider wedding rings with a more classic style.
Diamonds, too, can help you match your engagement ring to your wedding band. The cut of the diamond or diamonds on your engagement ring is important, as is the style. Like with the style of the ring as a whole, you can match the cut and style of the diamonds on your ring. If you are unsure how to do this, your New Jersey wedding vendor might be able to help or to recommend someone who can.
If your engagement ring has diamonds in the band in the style of an eternity ring, the alignment you choose for your wedding ring can be important. This is because if the alignment of the diamonds on the two rings doesn't line up, it can look a little off. Consider matching the alignment of diamonds to make your rings match.