One of the most recognizable bridal accessories, the bouquet is a bride's chance to add a touch of color to her walk down the aisle. Today bridal bouquets can be made up of every flower imaginable, from roses to orchids to daisies, and some bouquets don't use flowers at all. During the nineteenth century, when Waterloo Village was a bustling inland port, brides had more limited options, dictated by a combination of availability and custom.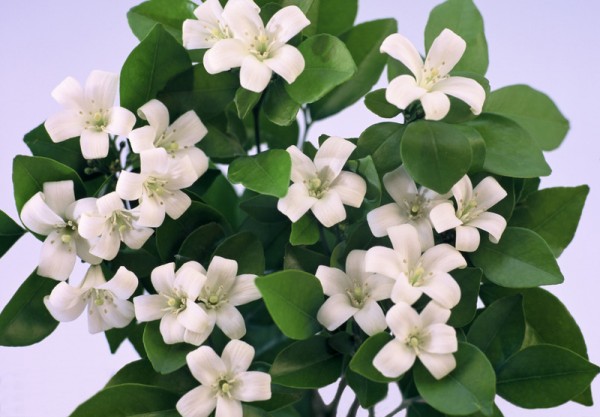 Today commercial greenhouses and modern transportation methods allow any bride with vision—and lots and lots of money—the freedom to select practically any type of flower or plant she desires for her wedding bouquet, regardless of season or whether it's native to her country or region. Brides of the nineteenth century did not have this luxury: there was no sufficiently speedy way of importing perishable flowers from warmer climes if they did not happen to be in season and if you wanted exotic flowers which didn't grow in your part of the world, you were generally out of luck. Instead, brides were forced to make use of what was available at the time of their wedding.
Interestingly, there is little mention of bridal bouquets in etiquette manuals of the era until around the middle of the century—instead, brides seem to have included flowers in their wedding ensemble through the use of wreaths worn on their heads. Around the 1850s and '60s, however, the use of bouquets seems to have become much more popular, or at least the authors of these manuals appear to take more notice of them.
The recommended flowers for an American bride, according to The Gentleman's Book of Etiquette and Manual of Politeness, published in 1860, were "gardenias, if in season, white azalia [sic], or even camellias, with very little orange flowers." There was, of course, room for variation, and different flowers came into vogue and faded away over the decades. One which stuck, however, was the "orange flowers" ("orange" referring to the fruit, not the color), which had become closely associated with weddings long before the Victorian era in a tradition originating in ancient China and imported to England through Spain and France at the beginning of the 1800s. Americans were copying the English usage of the blossoms as early as 1828 (the bride of President John Quincy Adam's middle son was married in this year and wore orange blossoms in her hair), however it did not truly become widespread until after the 1840 wedding of Queen Victoria, who wore a wreath of them down the aisle. After this, American etiquette books of the era emphasized the need of all brides to incorporate the small white and yellow flowers into their wedding ensemble and most young women diligently followed this advice. For those brides who lived too far north for orange trees to flourish, wax replicas of the flowers were used in place of real ones. These were not only featured in bouquets, but frequently fashioned into wreaths to be worn with a veil. Some brides also imitated the Queen by incorporating a sprig of ivy into their bouquets, which was supposed to symbolize luck and happiness in marriage.
A prominent feature of the nineteenth century wedding bouquet was the color. As Cassell's Household Guide of 1869 clearly states, while "[b]ridesmaids' bouquets are composed of colored flowers of the season", the bride's bouquet "should be composed exclusively of pure white flowers." This opinion is backed by most of the other etiquette guides of the time and probably originated with Queen Victoria's snowdrop bouquet. Any bride of the era who desired a more colorful bouquet would have had to have a talk with her future husband, because it was his job to purchase and provide the bouquets both for his bride and for her bridesmaids—his only required financial contribution to the wedding.
So, what did a nineteenth century bride do with her bouquet after the ceremony? While the etiquette books of the time make no mention of the traditional bouquet toss, it is mentioned that during the reception the bride would hand her bouquet off to her "first bridesmaid" or maid of honor who would loosen the bouquet and distribute the flowers among the assembled guests as wedding favors. The bride, herself, would select a flower from the bouquet beforehand to preserve as a memento of her wedding day.