Looking for a truly unique setting for your New Jersey wedding? Treat your guests to an unforgettable experience with a cruise down the Hudson, the New York City skyline sparkling in the background and the glistening expanse of the water stretched out before you.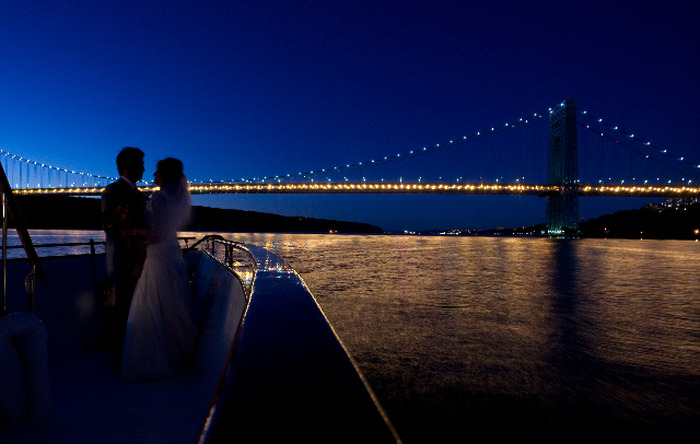 All photos courtesy of Smooth Sailing Celebrations.
Smooth Sailing Celebrations is an amazing North Jersey-based, nautical event planning service that works with different yacht companies to pair couples with the perfect vessel for their event and then continues to offer assistance throughout the planning process. All for free! We spoke to Camille Cerria, the company's owner, to learn more about this unique venue option. Here's what she told us!
---
At Smooth Sailing Celebrations, we hold our client's hand every step of the way and assist in every way that we possibly can, from yacht selection to referring trusted vendors (officiants, DJs, bands, photographers, florists, etc.) that are familiar with the boats and Coast Guard regulations.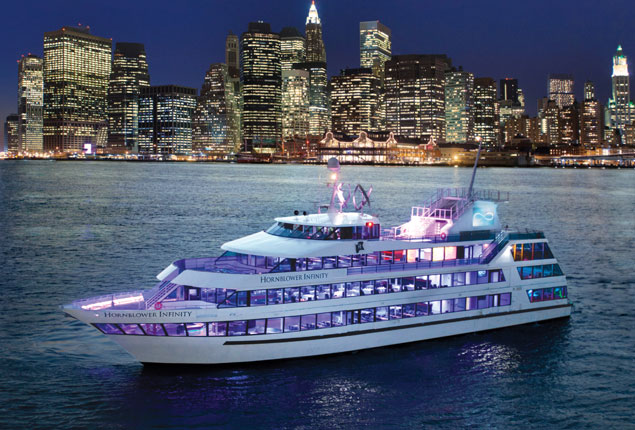 Q. What are some of the most frequently asked questions you receive from couples looking to book a yacht for a wedding?
A. "What's the catch?": Couples don't understand how our nautical event-planning service can provide them with such valuable information for free. The answer is that the boats pay us a commission to bring our clients' business to them, and to continue to work with the couple from beginning to end. The boats pay us the same rate of commission, and we only recommend a boat if we truly believe that it's a viable option or the wedding couple that suits their criteria. To determine these criteria, we start with five basic questions to narrow down what the couple is looking for. Those five answers enable us to email menus, pricing and pictures to our clients for review. We typically offer a couple 3 wedding yacht options so that they have a variety of styles to choose from. We usually then chat about pros and cons of each option and arrange for a yacht tour.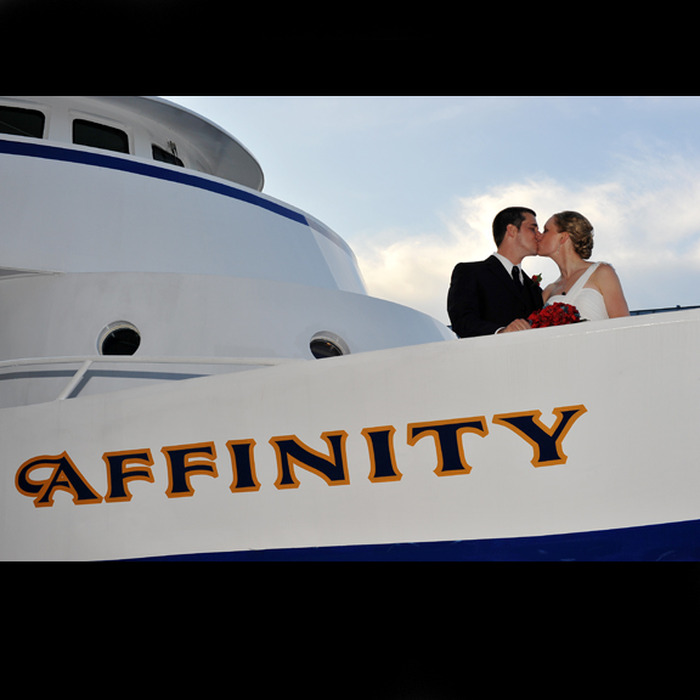 "How much time does it take to plan?": We are often contacted for weddings taking place within a few months, and the couple is in a bit of a panic during their venue search. Because we have over 45 yachts in our fleet, we usually have at least a few lovely yacht options that are available to them on their preferred date. Our record is planning a wedding for a couple whose venue had double-booked and bounced them 25 days prior to their wedding date. You can see Jai & Alfredo's wedding video aboard the Affinity Yacht here.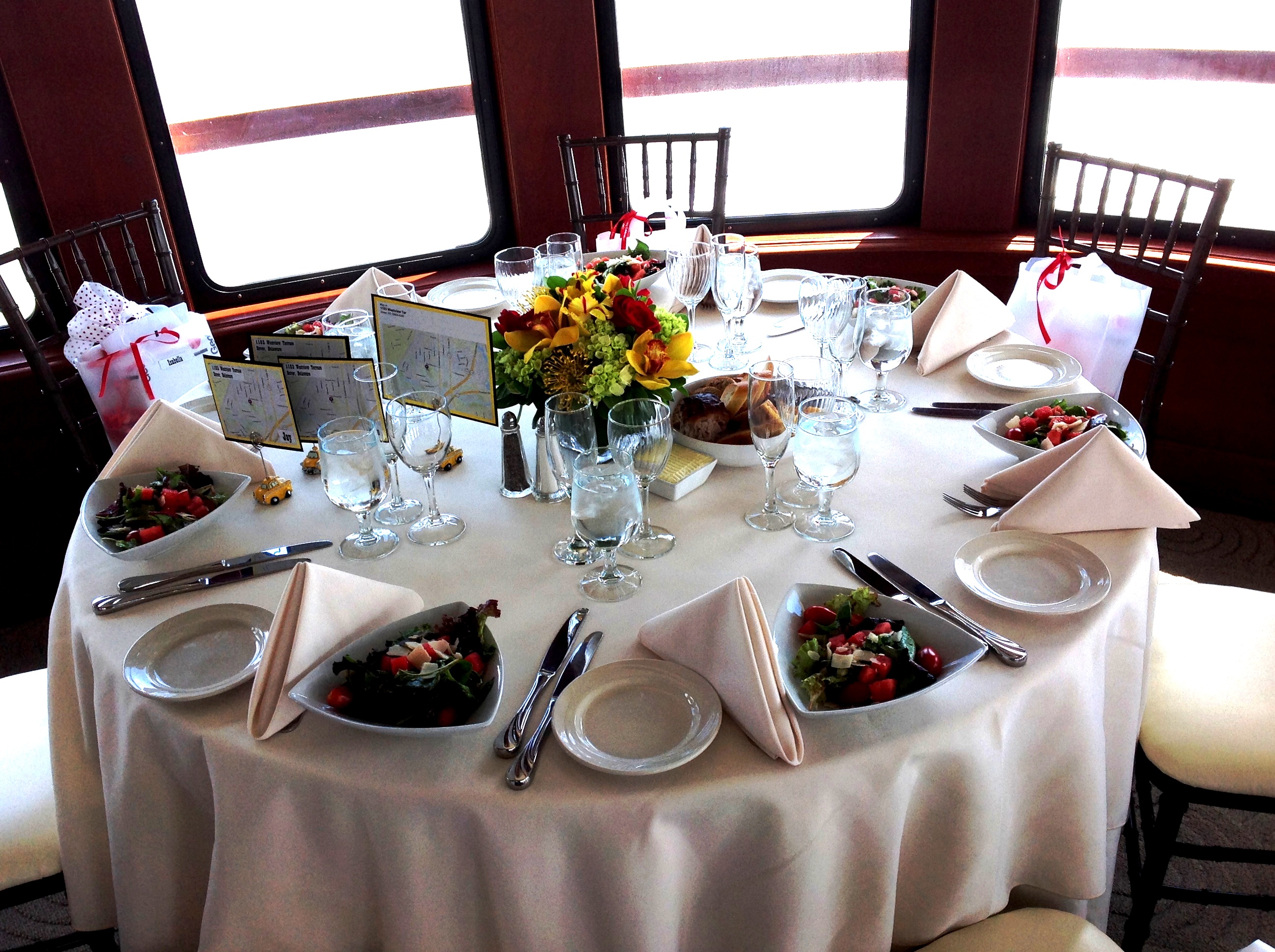 "What's included in a wedding package?": Couples are usually amazed at all that is typically included in a wedding package: ceremony, premium open bar, cocktail hour of butlered and displayed hors d'oeuvres, champagne toast, dining and wedding cake. All include linens, tables, chairs, most include centerpieces, and some include chair covers. Maitre'd, waitstaff and bartenders are included, as well as a Coast Guard-certified Captain and marine crew.
Q. How do you recommend handling seasickness?
A. Grooms especially have sometimes been out on small fishing boats in the middle of the ocean, drinking beer in the middle of a hot day. Under those circumstances, they have understandably experienced seasickness and question whether this is a possibility on their wedding boat. The answer to that is "no." Even the smallest wedding yacht for 12 guests is larger and more stable than the average fishing boat and, of course, the calm Hudson River has no waves like the ocean does.
For those who truly do have weak stomachs, a great homeopathic remedy that I've recommended for 20 years is candied or crystallized ginger. Take two pieces half an hour before boarding the yacht. It will calm the stomach and not interfere with any medications the guest is taking and the guest can still indulge in the premium open bar provided by the yacht. On another note, it also works when ill and for morning sickness when pregnant.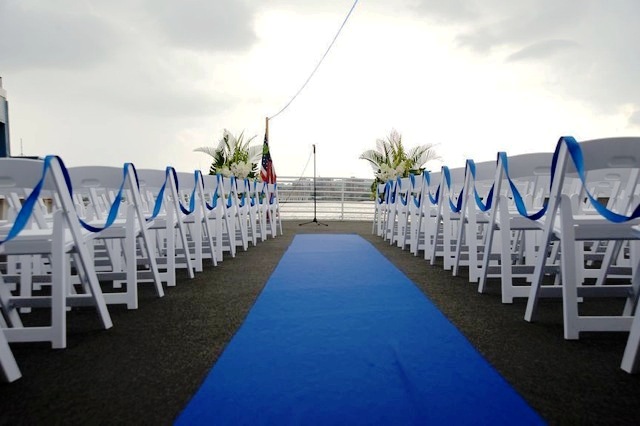 Q. How long do you recommend a yacht wedding and reception to last?
A. Wedding couples have the option to get married on the boat prior to their wedding reception, which is very convenient for them and their guests. 99% of wedding couples opt to do this and most yachts have bridal suites onboard. With the half hour ceremony time, the typical event is 5 ½ hours long. It may sound like a long time, but the one complaint I've heard most often over the years is that "the time went by so fast, too fast!" This is music to our ears, because it means that everyone had a wonderful time, Once in a while, we get requests for the boat to come back to the dock after a few hours if most of the guests are from the medical profession and are on call. In those cases, the reception continues dockside instead of sailing.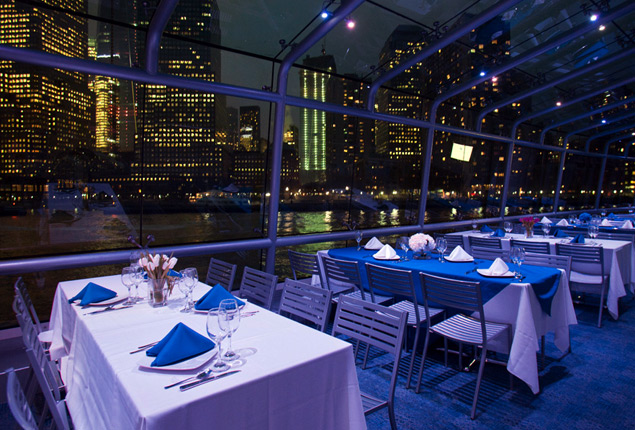 Q. What about décor? Is decorating a yacht any different than a more conventional venue?
A. Clients are allowed to decorate in any way that suits them, as long as it does not include glitter/confetti or damage the yacht in any way. Because the yachts are so beautifully appointed with windows that no one wants to cover up, most couples do the bare minimum of decorating—perhaps bringing in their own centerpieces or specialty linens instead of what the boats provide in their packages.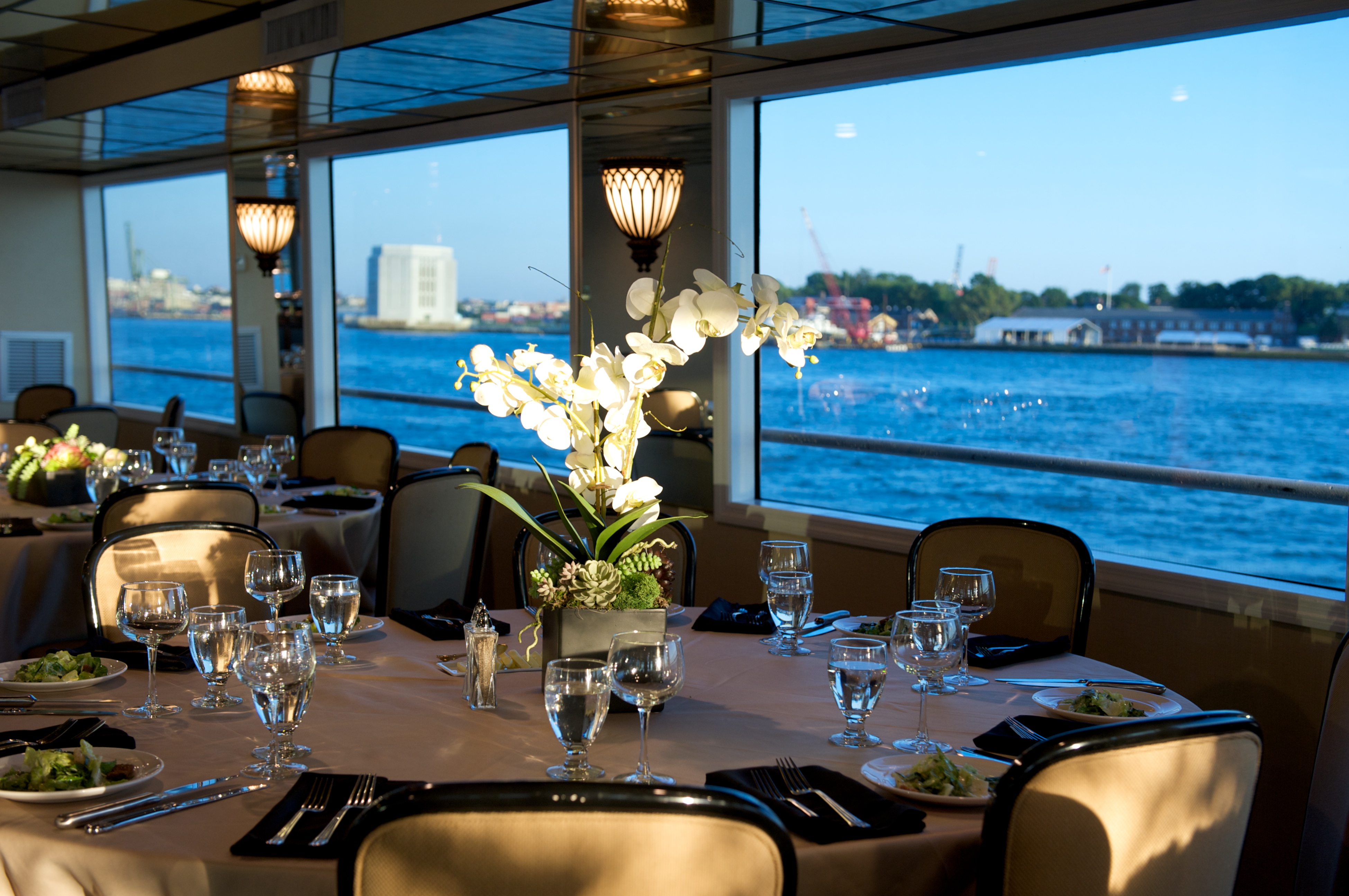 Yachts are not merely a venue…yachts are an experience that you will never regret booking for your milestone celebration.