When planning a budget for your wedding, one of the things you should do before looking for vendors- caterers, florists, photographers, musicians, planners, assistants, and others- is get a general idea of how many people you will have at your wedding.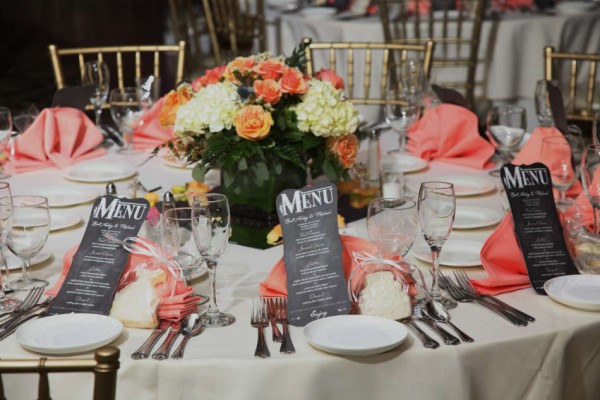 Photo Credit: Battleground Country Club
This is especially important in terms of feeding everyone: if you get an initial count of one hundred people and budget for one hundred plated dinners, and then end up with four hundred people at your wedding, you're going to have a pretty major problem. In all the excitement of finalizing a guest list, there are still people you should consider when thinking about the size of your guest list: remember those vendors?
Okay, so thinking about vendors for your wedding just added on more work to the mountain you already have to accomplish when planning this wedding. Think of it this way: If your boss made you work an eight or ten hour day (or more!) without even a few minutes to relax and eat something, how angry would you be? Probably pretty angry (and exhausted, and starving...), right? Well, it's the same for vendors. They may be fabulous and you might even swear that your wedding planner is related to the Energizer bunny, but she's still human, and you can't expect her to work all night without food. Even if she eats something before showing up to work, how many hours ago was that? Seven? Eight? More? It's not just the wedding planner, either: Waiters, photographers, the wedding planner's excitable little assistant, and all the rest of them are no good to anyone if they're passed out on the floor or struggling to remain professional while ready to start screaming at people left and right, all because they haven't eaten in hours.
Now, there are a couple of ways to go about this. The first thing you should do is check all of the vendor's contracts, which will probably include whether or not that particular vendor's staff expects to be fed. If you're unsure, you can always ask. Even if it's someone you don't think you'll be expected to provide food for, ask anyway if you're unsure or if you think it will be an issue. If a vendor says that they won't need to eat, you can always budget for them anyway and invite them to eat if they want to. It's always better to be safe than sorry. This way, you can budget appropriately and find out if the vendor will include the cost of feeding their staff into their fee. Once you have an idea of how many staff you will be expected to feed at your event, check with your venue. Some places may have a special discounted price for vendor's plates.
If you really want to make it easy and ensure that your vendors eat well, you can simply include them in the head count that you provide to your caterer, and all of the staff can get a plate of whatever it is the guests are eating. If a venue provides vendor plate discounts, that means vendors will probably be provided something different from what the guests are eating.
It's not a bad idea to give your vendors some space to decompress, either. Most workplaces provide employees with some kind of break room, so think of it the same way for the staff at your wedding. Ask your venue if they can provide a quiet room near the reception space for the staff to eat and maybe spend a few quiet minutes. It doesn't have to be another banquet hall, but a separate space is a good idea.
As for when your staff will eat- after all, you want your band on hand to keep the party going, and your photographer's camera glued to his hand to catch all of those special little moments- consider allowing them a break during the time when all of your guests are eating. You are probably circulating the room chatting with people anyway, and you want to be able to hear each other, so music isn't a necessity during this time, and you certainly don't need photographs of Grandpa shoveling down as many of those cocktail shrimp as he can get his hands on.