Winter may not be the first season to spring to mind when we think of weddings, but when properly executed, a winter wedding can not only be gorgeous, but that much more memorable for taking place during the wedding off-season.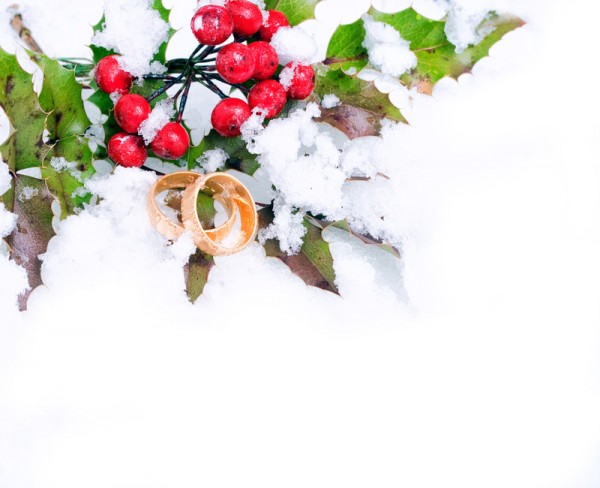 This week we asked the folks at North Jersey's wonderful historical restaurant and event venue, Bell's Mansion, for some helpful tips and ideas for planning a winter wedding your guests will love. Here's what they had to say!
---
A successful winter wedding reception really pulls together the different elements of a wedding by embracing the feel of the season. Stationary is key in setting the tone for the gathering, so choose save-the-dates and invitations that have a winter feel to them. Once the stationary is picked out, use it as a guide for planning your reception décor by choosing decorations with similar characteristics. This will help create a unified visual theme for your event.
Our suggestion for a winter-themed wedding would be to avoid bright and pastel colors for the décor and go for a more elegant gold or silver paired with winter white. Runners make beautiful accents for tables, especially alongside candles of different sizes and shapes to illuminate the menu and food. For those couples who prefer something fun, we've even had guests get creative by using homemade snow globes as their table numbers! Smaller branches of birch are also a beautiful touch when used to decorate tables and windows. As for the flower arrangements, we highly recommend purchasing what is in season—and before you lament the narrowed options, imagine the striking effect of a bouquet fashioned from pine, ivy, holly, and poinsettias against the backdrop of your white dress! As an added note, you can tie the winter season into your wardrobe with shawls or wraps for you and your bridesmaids and dramatic, dark suits for the gentlemen.
When it comes to a winter wedding menu, the highlight should be on warm, inviting dishes to counteract the season's chill. Start with warm appetizers, like our homemade pierogis or chicken satays and then move on to a warm soup, like our creamy mushroom bisque. For the entrée, we suggest game or beef with red wine—our beef wellington is a popular choice. Cinnamon is a flavor often associated with the winter months and can be used in a variety of dishes.
Last but not least, what kind of drinks should you serve at your winter reception? Our personal favorites are the Crème Brûlée Martini (vanilla vodka, Buttershots, Licor 43, cream, and caramel sauce) and the Dark Chocolate Martini (white and dark chocolate crème de cacao, chocolate vodka, and white and dark Godiva liqueur). These options remind us of the winter time with their flavors and scents. They also warm us up really quickly!