The catering tasting is certainly a highlight of wedding planning in the Philadelphia area. We turned to Robert Ryan Catering & Design for some insight about their monthly tasting event. Here is what they had to say: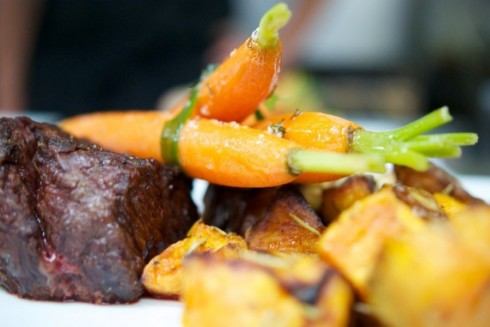 Photo credit: Robert Ryan Catering & Design
Robert Ryan Catering & Design invites all of our "in-house" clients to attend a Monthly Tasting. Held the first Wednesday of each month, the Monthly Tasting provides engaged couples with far more than just a satisfying meal. Each month, our Executive Chef rolls out a brand-new, seasonal menu – with never-before-seen options – for our clients. This experience provides them with an opportunity to not only taste a full four-course meal, including our own featured dessert as well as cake from The Master's Baker, but also to garner an understanding of our staff and service in the event environment.
Next Wednesday, April 1 is our next Tasting event at The Columbia Station and The Barn on Bridge! If you are on the list and kicking off your April with us, here's a sneak peek of some of the deliciousness that we, at Robert Ryan Catering & Design, have in store for you.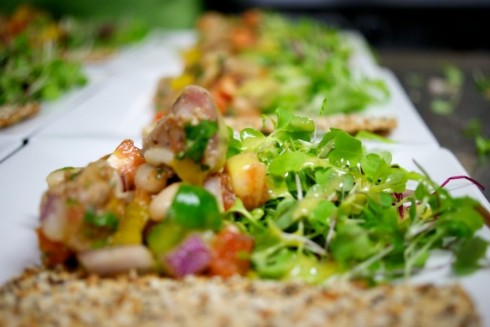 Warning, this is just a warm up:
- Chili spiced beef cocktail shooters with pom syrup
- Cumin crusted tuna with wasabi mayo and tobiko on a nori rice cracker
- Sesame chicken bites with Chinese mustard
- Bruschetta on a crostini
- Artichoke hearts with roasted red pepper goat cheese
For the table:
- Herb baked goat cheese and marinara served with garlic rubbed French baguettes
Don't miss our Mini-Entree Station
- Coconut crusted shrimp, mango and grilled pineapple salad and fried yucca chips (served in coconut shells)
Let the games begin with our First Course:
- Melon Soup
- Pear and goat cheese salad
and the Entrée:
- 6oz filet with a classic béarnaise sauce
- Apricot rum glazed Chilean sea bass
- Roasted Yukon gold potato wedges 
- Seasonal veggie bundles
Save room for Dessert:
- Miniature Chocolate lava cake with house made strawberry icecream
- Gourmet wedding cake from The Master's Baker