The send-off has become quite the scene stealer for Philadelphia weddings. Sparklers and professional fireworks have marked this milestone in a monumental way. Traditional or dramatic, send-offs remain a popular way to end the evening on a high note. Here are 10 fun send-offs for your wedding in Philadelphia: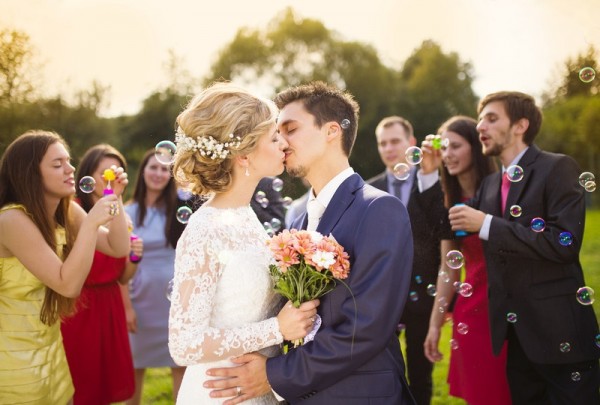 Photo credit: (c) CanStock Photo
Glow Sticks: Leave your guests electrified by your send-off with glow sticks in a multitude of colors that light the way!
Sparklers and Fireworks: Grab your spouse's hand and duck under a hand-held tunnel of sparklers. They illuminate the sky and provide a magical shimmering light show perfect for incredible wedding photographs of you and your guests. Heart-shaped, initials or just plain, sparklers add ambiance to your wedding send-off.
Many professional companies offer fireworks as an entertaining way to end the evening.
Wild Flower Petals: Leave behind a dreamy trail of petals to mark this special moment. The scent, soft texture and natural beauty make this choice quite appealing. Silk flowers or real, the choices are endless.
Bubbles: Floating iridescent bubbles creates a fun, picturesque backdrop that brings smiles to all age groups on your guest list. Imagine frolicking bubbles framing the incredible photos from your wedding departure!
Fall Foliage: Yes, leaves are now a thing. A variety of fall hues collected really brings the season to life.
Leaf Confetti: The green version of this idea is simple. All that is needed is a 3 leaf hole puncher from your school days and well, leaves…No environmental harm in throwing this funfetti for your wedding!
Paper Airplanes: Put your frowned-upon elementary school paper plane making skills to good use. This unique and fun idea allows you and your guests to let that inner child out and celebrate in old-school fashion. Add a quote or keep them plain and set them free during the send off.
Balloons: Not just for birthdays anymore, balloons in your wedding colors are making a comeback from your childhood days.
Artificial Snow: One of the most unique ideas, artificial snow is festive and provides the perfect romantic subtle backdrop for your departure.
Feathers: Soft and romantic, feathers are ideal for a rustic or outdoor wedding in the Philadelphia area. Natural or synthetic, feathers can be purchased in a variety of styles, sizes and colors.