Here are the top ten most request venues in 2018 for PartySpace Philly!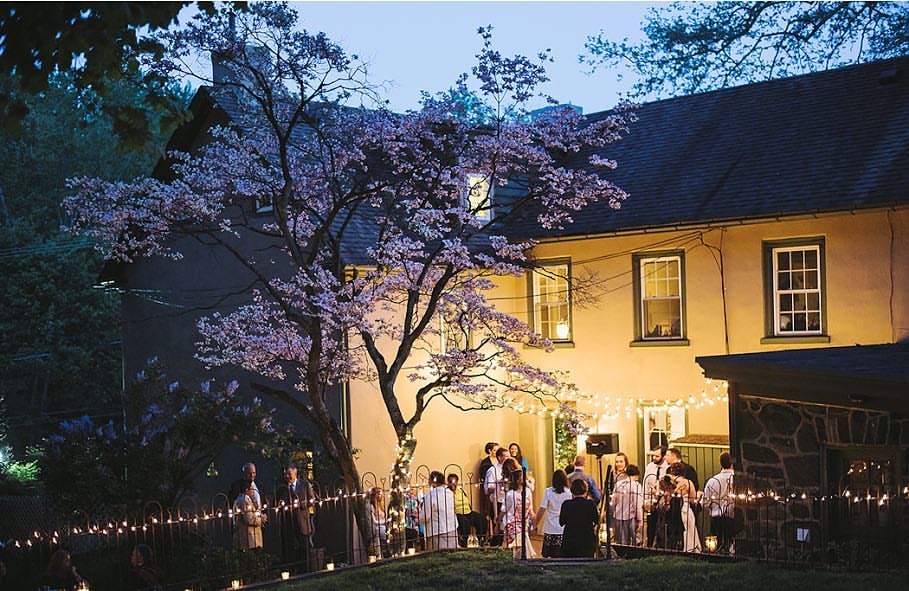 Photo Credit The Sage Farmhouse
Landing at number 10 on our most requested list is The Sage Farmhouse! The rustic setting is inviting and warm, with beautiful gardens and fountains. This farmhouse is the perfect setting for celebrations of all kinds, ranging from weddings to showers.
Photo Credit PineCrest Country Club
Placing at number 9 is PineCrest Country Club. This country club venue is a great venue selection to host those special life events at. With a varied set of services and packages, the experienced team at PineCrest Club is prepared to help you every step of the way!
Photo Credit Michael's Photography
Sitting at the number 8 spot is the beautiful Artesano Gallery. This hidden, colorful gem has 21,000 square feet of event space. A former warehouse space has been transformed, now including a 17-foot glass facade, bold iron works, as well as a magnificent green wall and a grand staircase.
Photo Credit Terrain Gardens at Devon Yard
7. Terrain Gardens at Devon Yard
Ranked at number 7 is the Terrain Gardens at Devon Yard. This secluded garden hideaway has a covered pergola centerpiece, manicured lawns and trees, as well as a Garden Porch. The Reception Room is bright and light, a perfect balance of rustic and modern, with its reclaimed barn wood floors and Danish-designed seating.
Photo Credit Lori Gail Photography
Finding itself at number 6 is the John James Audubon Center. This was the first American home for famed conversationalist John James Audubon. The home, now a museum, is listed on the National Register of Historic Places. With bubbling creeks, an apple orchard, and a 19th-century fieldstone barn on-site, this is a perfect setting for a rustic themed wedding.
Photo Credit Moshulu
5. Moshulu
Placing at number five is Moshulu, Philadelphia's own tall ship and one of the most unique fine dining experiences. The multi-level decks of this ship provide stellar views of Philly's waterfront and skyline. With its views and culinary offerings, this venue is absolutely dazzling!
Photo Credit Tyler Arboretum
4. Tyler Arboretum
Resting at number 4 is Tyler Arboretum. Set among 650 acres of pristine woodlands, this setting is unparalleled. Dating back to a land grant from William Penn circa 1834, this arboretum has retained itself, becoming one of the oldest and largest arboretums in the United States. With many gardens and attractive structures, there is no limitation of ceremony and reception locations.
Photo Credit Lindsay Docherty Photography
3. Colonial Dames of Pennsylvania
Climbing its way into the top three most requested list is Colonial Dames of Pennsylvania. This historic Latimer Street house was designed by renowned Colonial architects, Ritter and Shay. It now serves as the headquarters of the National Society of the Colonial Dames of America in the Commonwealth of Pennsylvania. The interior is beautifully decorated with period antiques, paintings, and historical artifacts.
Photo Credit Fairmount Park Horticultural Center
2. Fairmount Park Horticultural Center
Establishing itself at number 2 is the stunning Fairmount Park Horticultural Center. With the capacity to host intimate indoor events and large-scale outdoor celebrations, the modern exhibition hall and the greenhouse space at the Fairmount Horticulture Center is truly unique.
Photo Credit The Gables at Chadds Ford
Earning the number one spot on our most popular list is The Gables at Chadds Ford! This historic Brandywine Valley venue is charming and sophisticated, surrounded by elegant and well-maintained gardens. The rustic chic decor of this is highlighted by exposed beams, French windows, and an impressive raised gable ceiling.