While the rehearsal dinner can be easily overshadowed by the excitement of planning your actual wedding day, it is often a very special moment for couples and their families. For many, it marks the first occasion when relatives from each side join at the same table and become acquainted with one another. While still a celebration, the atmosphere is generally more intimate and relaxed than the wedding reception.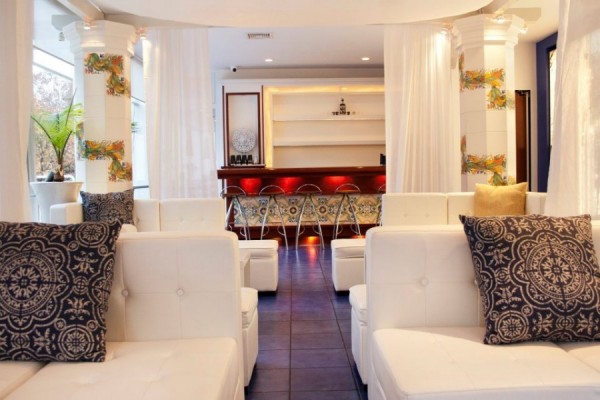 Photo credit: Positano Coast/Perretti Photography
There are no general rules to plan the rehearsal dinner; however, we suggest choosing a location that offers a different type of atmosphere and menu than your wedding reception. This keeps each event separate and unique. Here are rehearsal dinner venues in the Philadelphia area perfect for this special day:
Bourbon Blue's interior evokes images of French Quarter dining; original 1800s woodwork, vaulted ceilings, and the stunning, stately features of exposed stone walls colored with terra cotta. Outside, the recent addition of an open air deck with seating for 50 guests, complete with wrought iron railings, elicits a Southern bistro feel – full of hospitality and warmth.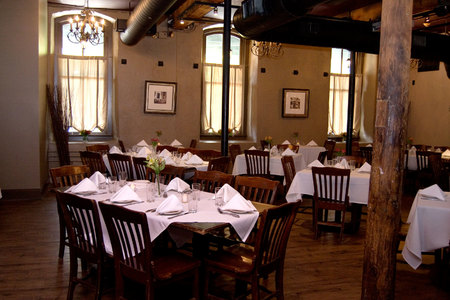 Photo credit: Bourbon Blue
Below Caffe Aldo Lamberti's main dining room, you will discover three beautiful private wine cellars that are perfect for your wedding reception, rehearsal dinner or next special event. The Tuscan cellar accommodates up to 16 guests, the Sonoma cellar up to 40 guests and their Bordeaux cellar up to 36 guests. All three cellars are available for private parties and house over 15,000 bottles of wine within them.
3. City Tavern
There is no other place in the world where you can experience authentic 18th century American Culinary history. City Tavern offers a full 18th century lunch and dinner menu and serves ales of the revolution, beers brewed with founding fathers' recipes, as well as a full bar.

The restaurant has 10 dining rooms and gardens, which are the perfect setting for rehearsal dinners in Philadelphia; celebrating and enjoying the flavors and traditions of the past come to life.
The lovely Pennsylvania Headquarters House on Latimer Street was designed by renowned Colonial Architects, Ritter and Shay, and was completed in 1921. The inside is painted in authentic colonial colors and beautifully decorated with period antiques, vintage paintings and historical artifacts.

The House exudes a personality, style and warmth unprecedented in the Philadelphia area and provides a truly unique venue for your next event. The House can comfortably accommodate small, intimate gatherings for 10 to 50 guests in a number of finely appointed downstairs rooms, or up to 120 guests for a reception in its beautiful upstairs ballroom. The upstairs of the House is fully air-conditioned for comfort during summer months.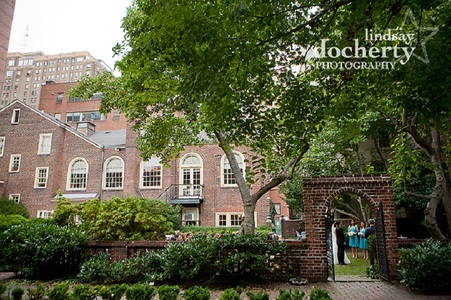 Photo credit: Colonial Dames PA Headquarters/Lindsay Docherty
5. The Corinthian Yacht Club of Philadelphia
Imagine hosting your wedding, rehearsal dinner or special event at this historic building with dining rooms and a lounge overlooking the Delaware River. The Corinthian Yacht Club of Philadelphia features an outdoor pool, deck and tented area on six acres. Enjoy beautiful views of sunsets over the river and Commodore Barry Bridge.
6. Doc Magrogan's Oyster House
Doc Magrogan's Oyster House can handle your gathering of up to 100 people. Enjoy Doc's warm atmosphere, pleasant hospitality, and fresh dishes- sure to please your friends, co-workers, or family. Each location offers a variety of options for you and your party to enjoy. If you have specific requests, Doc's will be happy to accommodate any of your needs!
The walls are adorned with photographic portraits of former Club luminaries, watercolors, oil paintings and bronze bas reliefs. At the end of the dining alcove, French doors open onto an intimate garden featuring a bust of Ben Franklin.
Today's guest at The Historic General Warren Inne will find the perfect blend of old world charm, excellence in American cuisine, fine wines and delightful overnight accommodations. Our Inne is centrally located in Malvern, Pennsylvania in the heart of Chester County.
Located in the upper levels of the restaurant, the private dining areas at The Goat's Beard can accommodate a small group of 12 or a larger group of 30; if you need more space, they can combine the rooms into one setting or, give you an all-access pass to rent the entire restaurant. Either way, you'll be in full control of everything from the music to the menu.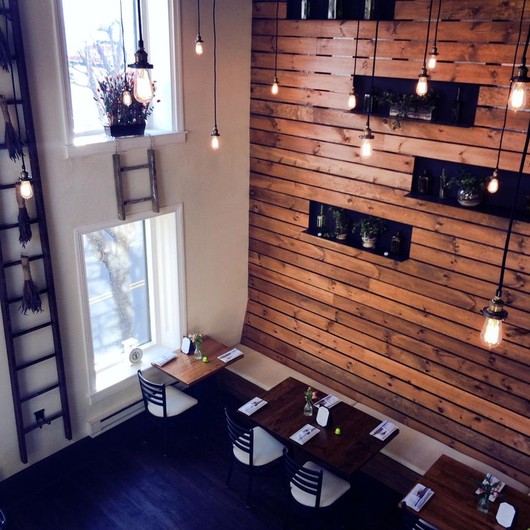 Photo credit: The Goat's Beard
Harvest Seasonal Grill & Wine Bar serves a seasonally changing, under 500 calorie farm-to-table menu while providing exceptional service in an upscale yet relaxed atmosphere. With the ability to serve large parties, Harvest is the ideal spot this season for your parties.
11. Positano Coast
If the flavor of Positano Coast's food is not enough to transport you to Italy, the atmosphere certainly will. Inspired by owner Aldo Lamberti's seaside hometown in Italy, the ambiance of Positano Coast will make you feel like you are on an Italian seaside holiday. With a soothing imported cobalt blue tile floor, life size images of the Amalfi Coast and remarkable second floor views of Old City, Positano Coast is a distinctive restaurant unlike any other in the City of Brotherly Love!
12. Physick House
Located only three blocks south of Independence Mall, the brick, four-story Physick House is the only freestanding Federal townhouse remaining in the Society Hill section of Philadelphia. With its huge doorway fan light and its collection of French-influenced Neoclassic furnishings, the Physick House offers beautiful period rooms and a medical museum depicting the amazing career of Dr. Philip Syng Physick. Its unusually large city garden contains plants popular in the 19th century and features a winding path and grotto.
13. Powel House
Built over two centuries ago as a place for refined entertainment, the Powel House continues to lend itself to elegant occasions that are both beautiful and comfortable, in a location central to Philadelphia's historical district. Although two centuries old, the Powel House remains a place of memorable entertainment. Rental spaces are within museum areas. Business dinners, weddings, ceremonies, convention meetings, and office parties are enriched by the building's history and beauty. An outstanding example of Georgian architecture, the first floor's dining room and parlor adjoin the passage, featuring one of the most elegant colonial mahogany staircases. The second floor highlights the rococo ballroom, where George and Martha Washington celebrated their anniversary in 1779. Also, in the adjacent withdrawing parlor, is yet another elegant setting for cocktails, conversations, and dining.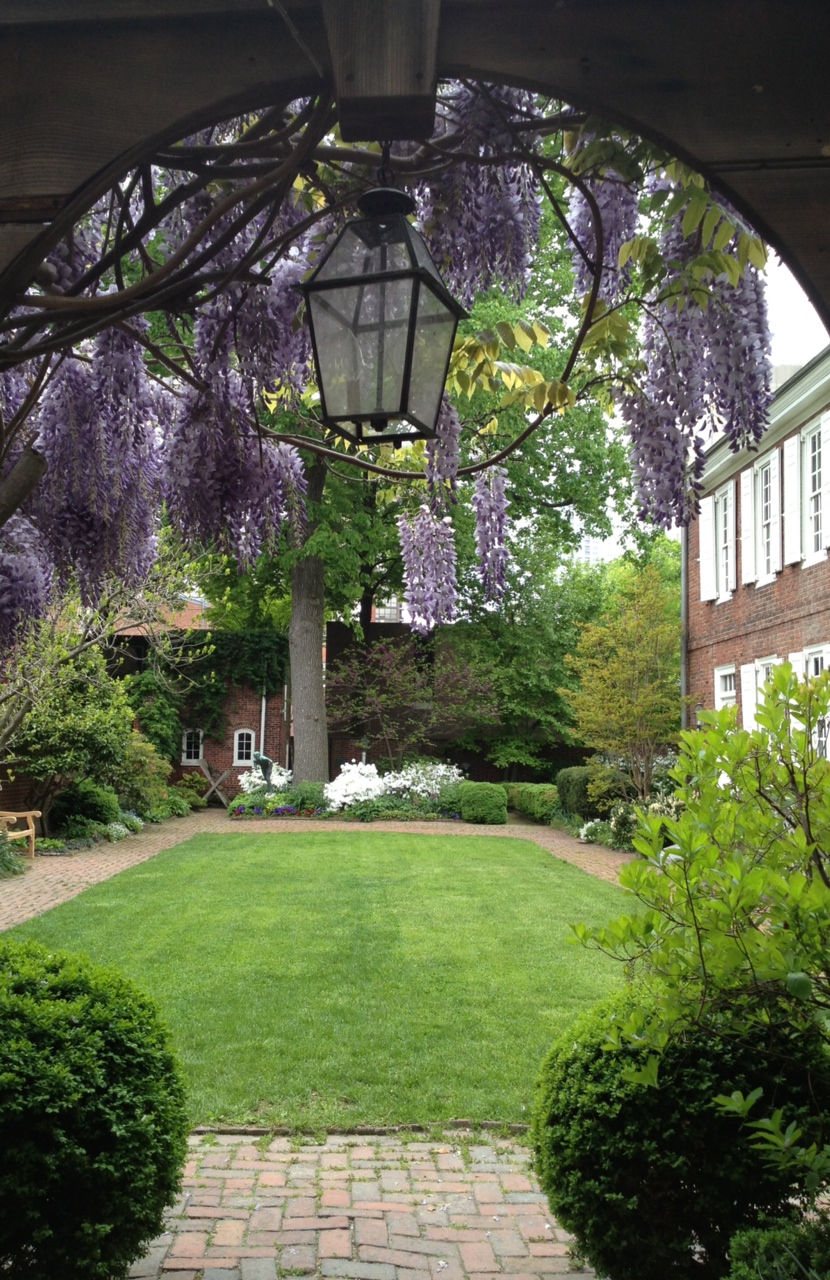 Photo credit: Powel House
14. Society Hill Dance Academy
Society Hill Dance Academy is a beautiful open space in the historic John Ross House with hardwood floors, natural light and a great sound system. Perfect for any occasion.
15. Supper
Conveniently located in the Bella Vista section of Center City, Supper offers a customizable space to host a rehearsal dinner or intimate wedding reception to remember. Supper is a warm and welcoming urban farmhouse featuring a lively open kitchen. Enjoy your celebration while experiencing Supper's seasonal farm-direct American cuisine, utilizing fresh, local ingredients.
Built at the turn of the century in the Arts and Crafts Victorian style, the Wayne B&B offers an elegant and tranquil stay in a historic 1890 home. Five bedrooms retaining the charm and character of an earlier century are filled with style and grace. This classic Victorian beauty, nestled in the heart of Wayne and only blocks from downtown and the train,