There are many moving parts to planning your perfect wedding in Philadelphia, and while it can be fun and exciting, it can also get confusing. We've simplified the wedding planning basics into four major components. Once you have checked these items off, you'll be in a good position for a stress-free count down to the big day!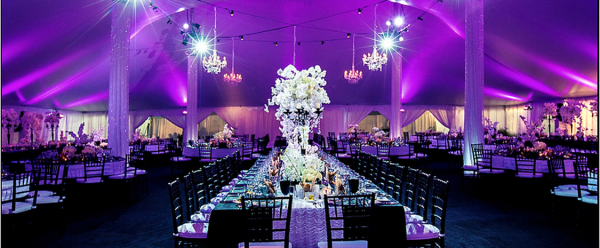 Photo credit: Event Central
Set a Budget: Your wedding budget is the foundation of your wedding and new life together. Money matters can sometimes be a stressful topic but a necessary one to gage how much you and your fiancé can set aside for your wedding. Of course, be realistic with your funds—no one wants to begin marriage in debt. No fun there!
An honest conversation with parents on what they are willing to contribute is yet another part of the puzzle. But once these parameters are established, you will emerge with a greater understanding how much your wedding should cost. Another good idea is to prioritize how important certain aspects of your wedding will be. Is it that live band that resonates with you or will you dance all night long to a DJ just as well? Is it that coveted Saturday night wedding or will you be just as happy celebrating on Sunday afternoon? Each decision will impact your budget so it's a good talking point to discuss with your partner which parts of your wedding to splurge and which can be scaled back, if needed. Guest count is another topic that is closely tied to your budget so make sure to address this early on.
Choose a Venue: Imagine the location where you wish to be married. Is it religious with the celebration to follow? Will your ceremony and reception be all at one spot? Does your ideal wedding venue include nature and farm tables or a giant staircase with a marble ballroom? Also, will it be a central location in close proximity to family and friends or somewhere meaningful like near a college where you met or a beach that you spent a first vacation? How many guests will you accommodate? Will it be in close proximity to hotels for out-of-towners? Fortunately, venues come in many sizes all over the Tri-State Area.
And thankfully, these days, there are no cookie cutter wedding venues. The choice is yours from art galleries and museums to barns and vineyards to hotels and standard halls. The wedding venue sets the groundwork for your type of atmosphere—right down to the kind of food served since many venues come with an exclusive or preferred caterer on site.
So, as you can see, selecting the right venue is an important piece of the planning puzzle.
Create a Vision: This is the fun part where you develop a theme or colors to create that atmosphere you both embrace. For example, will your reception be formal or casual, indoor or outside, vintage or modern, rustic or elegant? While your ideas will expand, these are just a few questions to get you started. Is it a sit down dinner or does the layout involve stations in different rooms highlighting the famous foods of Philadelphia? Will there be a dessert station, or perhaps a late night food truck with donuts? How will the flowers bring the vision all together?
Draft a VIP Team: Your vision sets the stage for what you are looking for in your wedding vendors. These event professionals include your wedding florist, entertainment, ceremony music, photographer, videographer, lighting and more. Discuss your vision and budget needs to stay on track and be sure to meet with your vendors in person. Even better, come equipped with pictures to convey your ideas effectively.